Coins for Christmas information.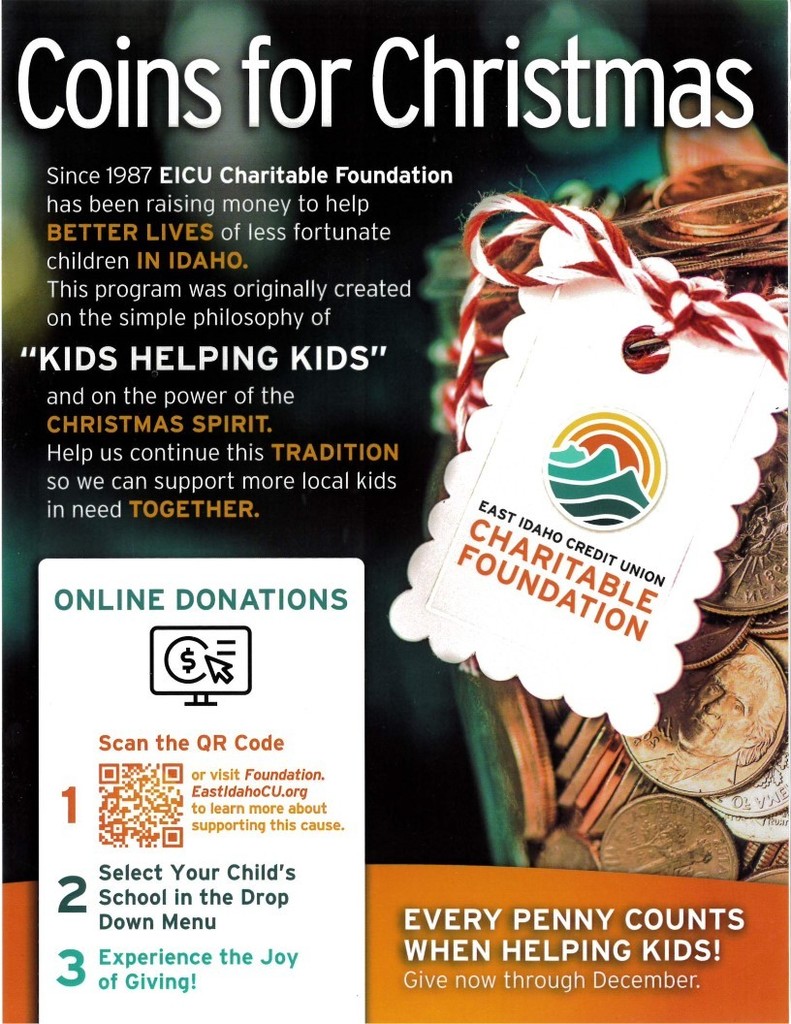 Bell Photo retakes will be this Wednesday, November 30th from 10:30-12:30. If you would like retakes, please bring your picture packet with you.

With winter upon us please dress your child appropriately for the weather hats, boots, gloves, and a warm coat. They will have recess most days unless we have extreme weather conditions. Contact the school if you need assistance obtaining these items: coats, gloves/mittens, or hats.

Our first and fourth grades attended the community program put on by the American Legion for Veterans Day.

We held a short assembly in honor of Veterans Day. We would like to express our gratitude to those who are currently serving and to those who have served our country in the past.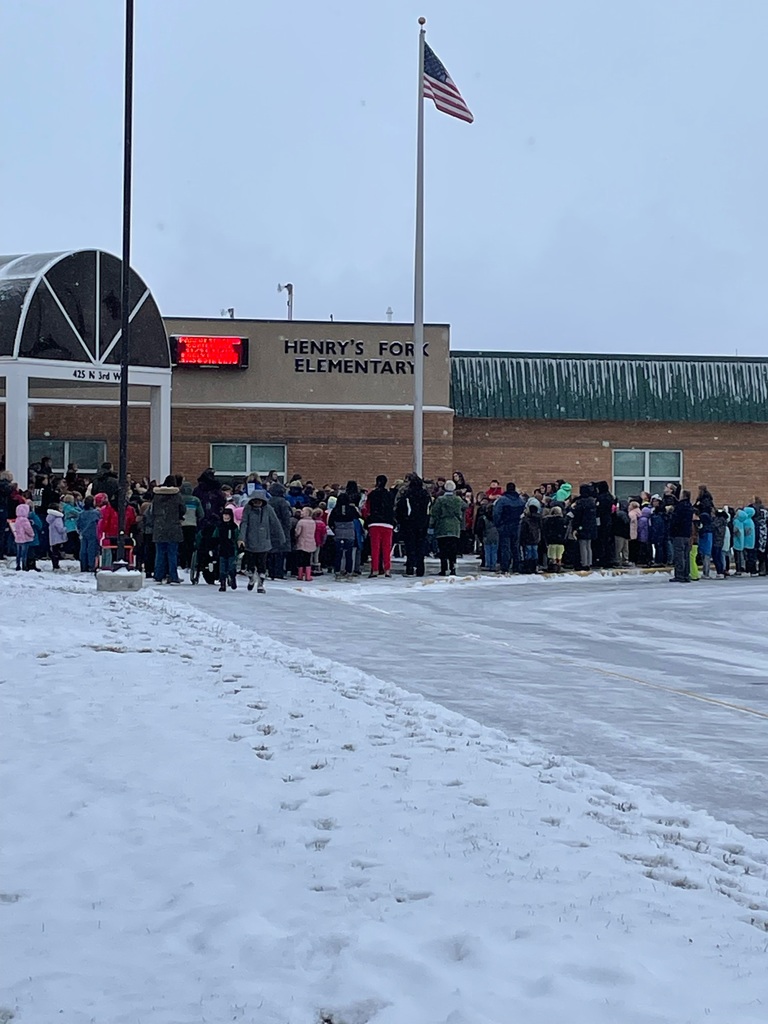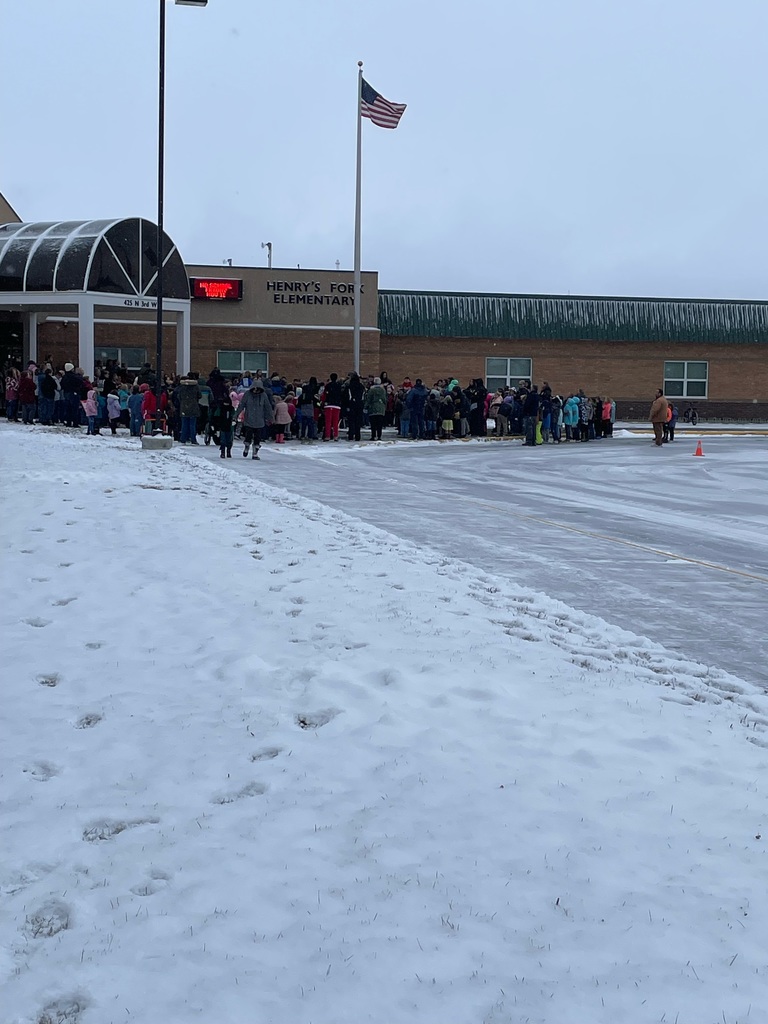 WINTER WEATHER. It looks like our extended fall is finally over, and winter weather has arrived. Here are a couple of reminders to help keep our students safe and warm this winter. Send your student to school with a warm coat and appropriate shoes. Make sure that the school has your current phone number and email address. If there is a school closure, we will be sending notices via phone call, text message, email, notifications on the district app, Facebook, and local media. We will do our best to let you know far enough in advance to make any necessary arrangements for your students. Thank you for your support, and enjoy the winter!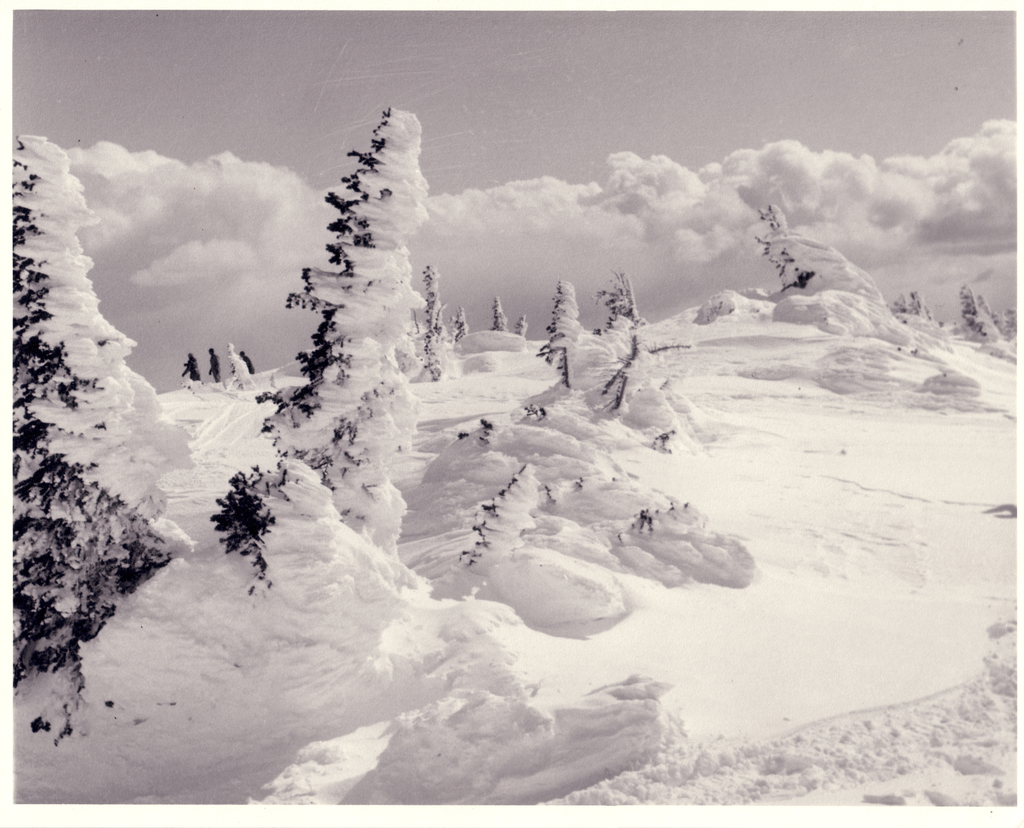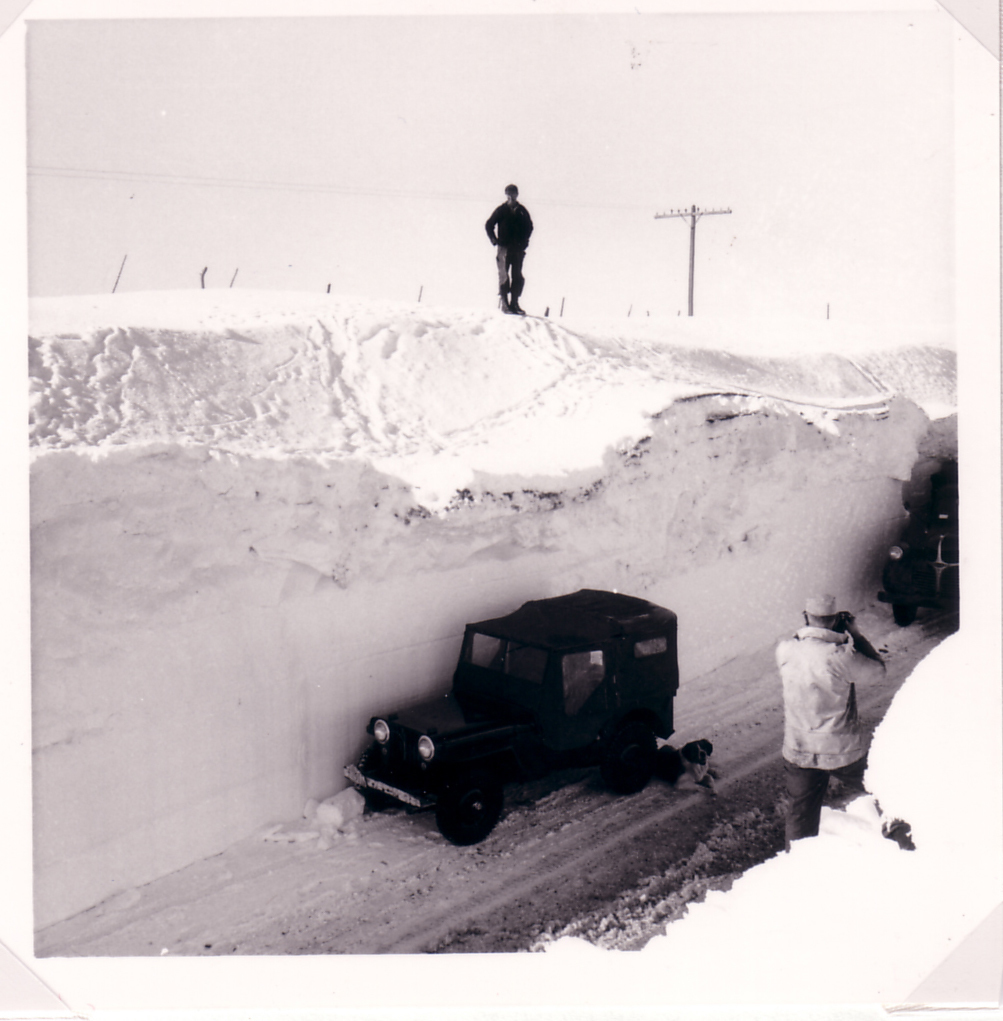 Starting November 9th, the Giving Tree will be in the office. More information is available on the flyer.

HFE November Newsletter.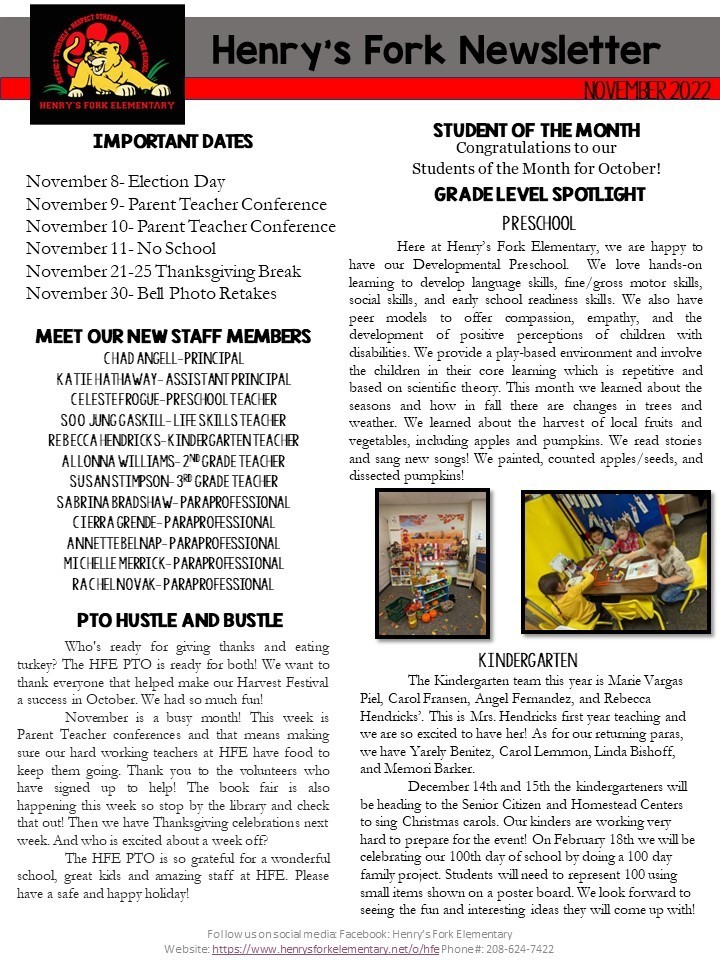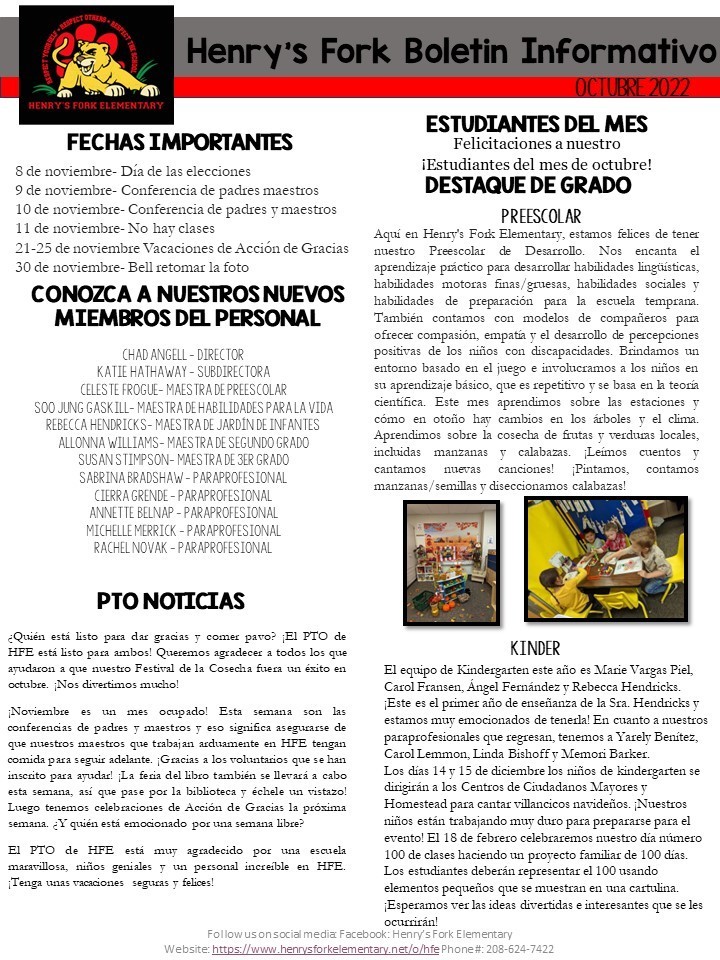 Counselor's Corner November Newsletter

November Calendar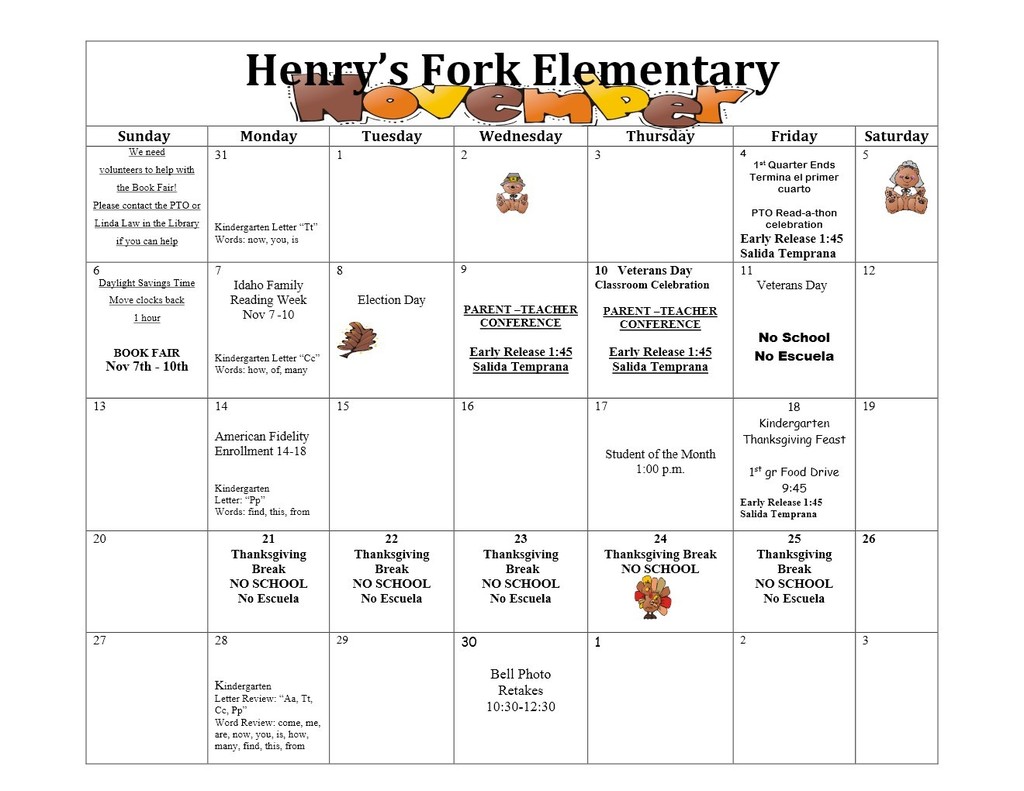 SUPPLEMENTAL LEVY ELECTION. Fremont County Joint School District has asked the patrons to vote on a supplemental levy on the November general election ballot. This is a replacement levy for our current supplemental levy that we have typically voted on in March. Though the vote has moved to November, the proposed levy would still go into effect for the fiscal years beginning July 1, 2023 and ending June 30, 2025. The proposed levy would be used to continue to provide funding for textbooks, technology, musical instruments, building and security needs, and to attract and retain highly qualified staff. You can expect your taxes for Fremont School District to remain the same or relatively close, depending on the assessed value of your property. We are not changing the amount of this levy, so unless your property has increased in value more than other property in the district, your taxes should remain the same or similar. The actual ballot question can be viewed on our District website (
www.sd215.net
). Thank you for taking the time to vote.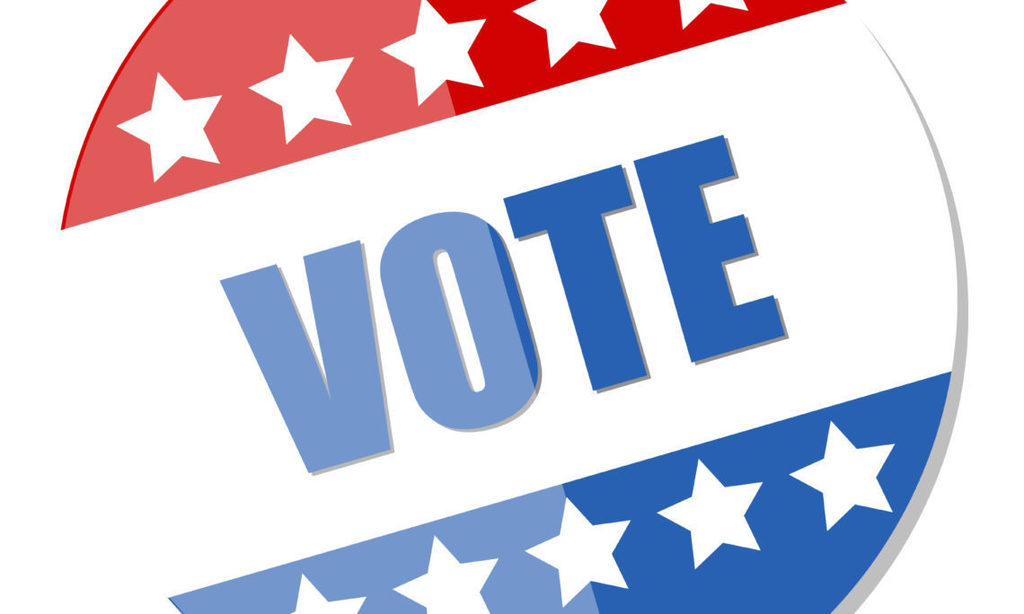 Catch up with the latest student stories, events, and news updates. It's everything Fremont County Schools, in your pocket. If you haven't already, download the app! Download for Android:
https://bit.ly/3TsExzH
Download for iPhone:
https://apple.co/3KxoFb7

The PTO is excited to announce that they are putting on a Harvest Festival at Henry's Fork Elementary. The Harvest Festival will be held on October 22nd from 4-6 p.m.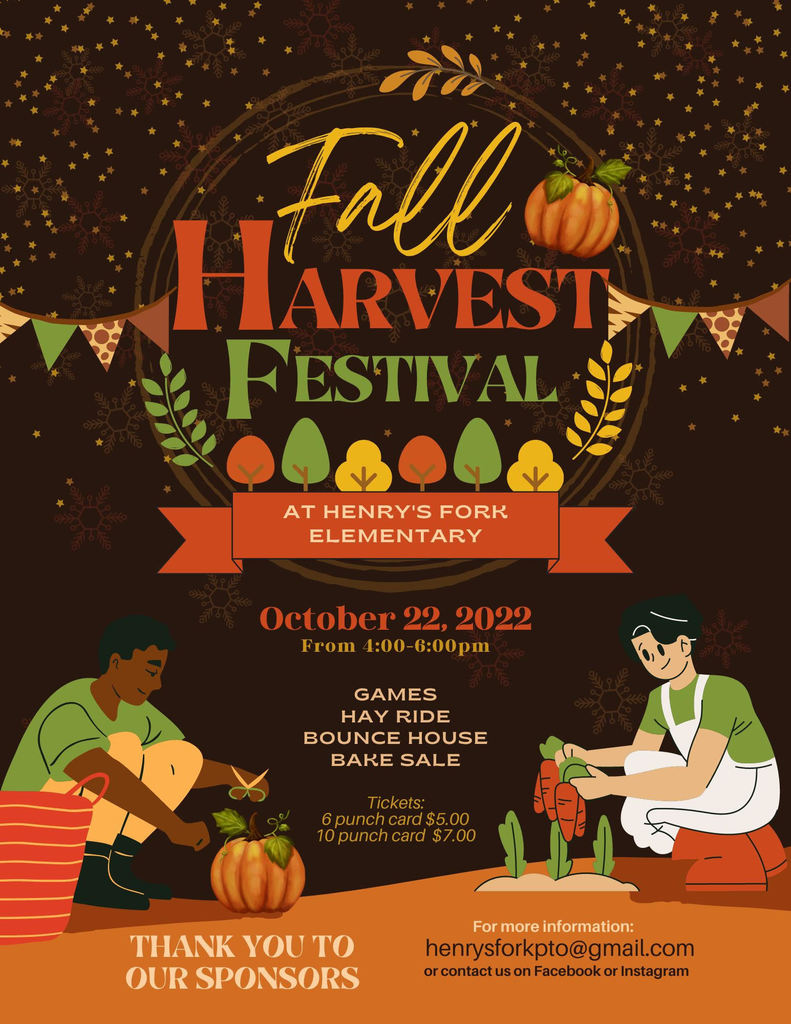 October Calendar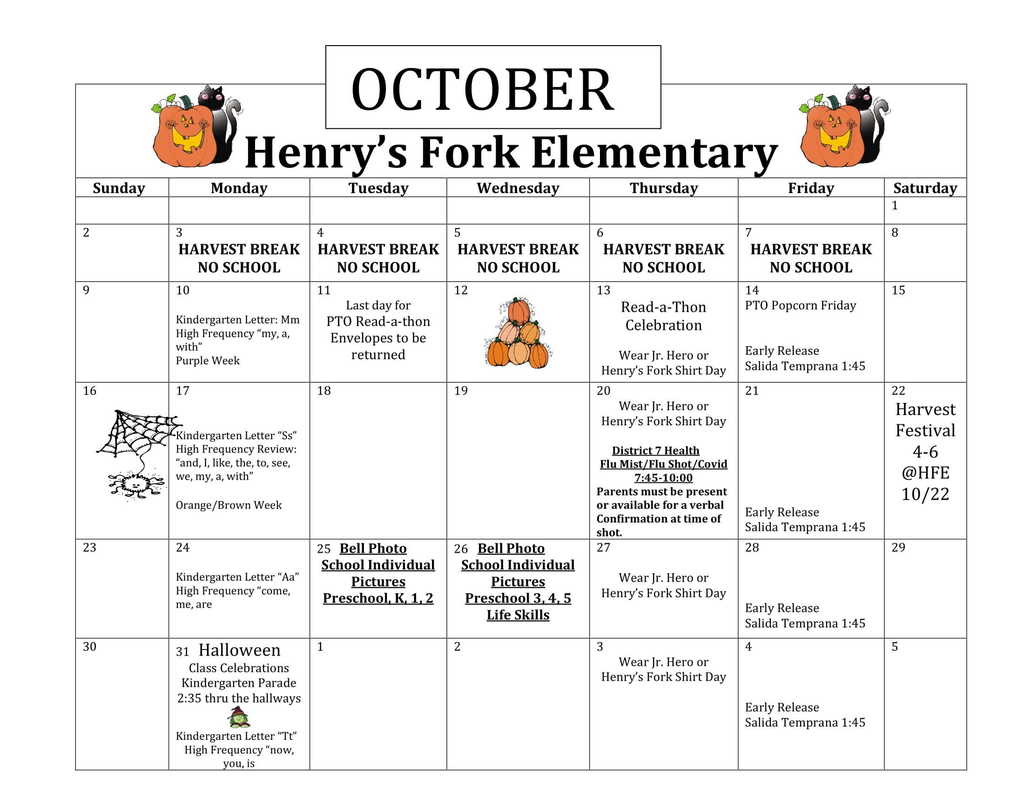 Counselor's Corner Newsletter for October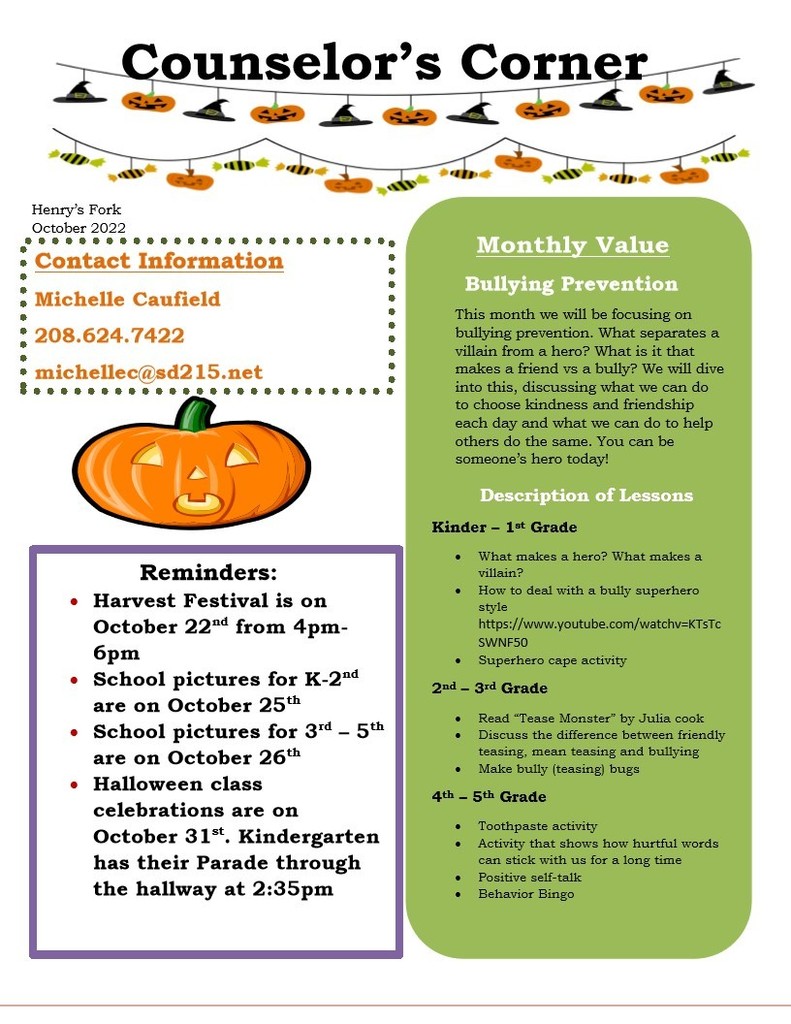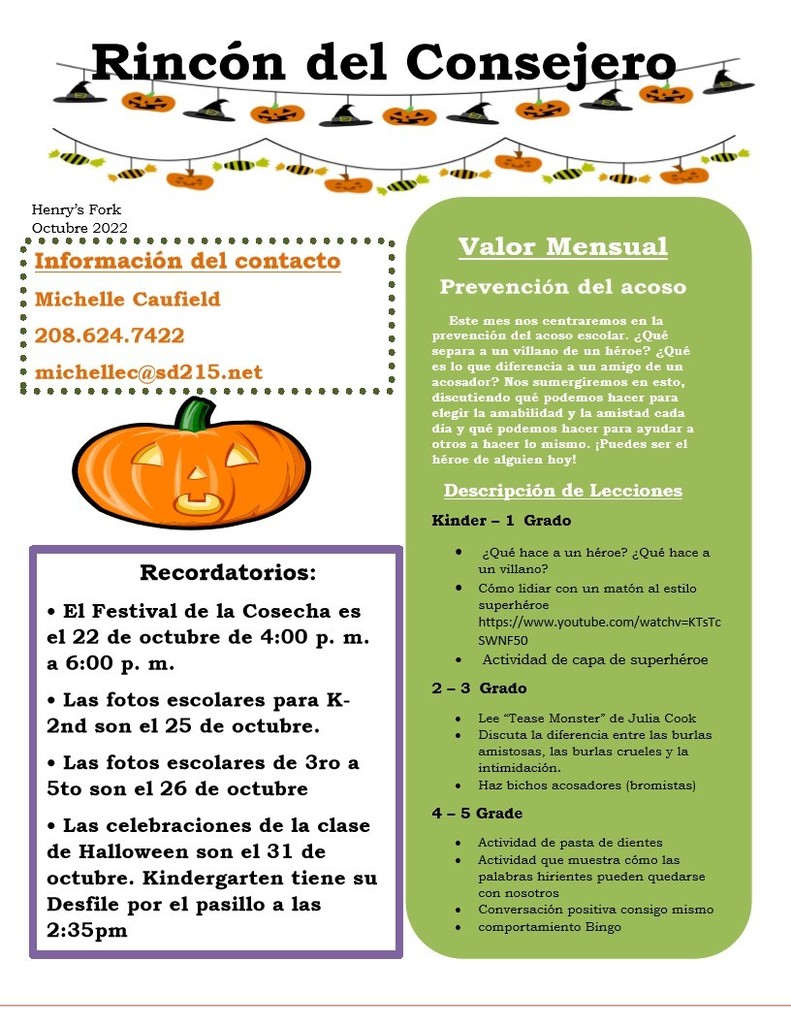 Applications are required for free and reduced-price meals for 2022-2023 school year. This school year, families who need assistance paying for school meals will be required to submit an application for free and reduced-price school meals for the first time since 2020. Our school district submitted a waiver to be able to use previous eligibility determinations dating back to school year 2019-20 for the first 30 operating days of school. The 30th operating day is October 18, so if an application has not been submitted and approved by then, prior eligibility will return to full pay on October 19. In addition to helping with meal prices, the State and Federal government use our district's free and reduced percentage to determine funding for many of the programs that support our students. It is extremely important that families submit applications, even if they do not intend to eat meals at the school. Click on the following links to apply. Please contact your school or the district office for a paper application: My School Apps (English) My School Apps (Spanish) If you are not sure whether you might qualify, you may use the tables attached to an email that is also being sent.

Just a reminder there is school this week for Henry's Fork Elementary. Potato Harvest will begin next week on September 26.

The 4th Grade has been learning about rocks and fossils in Science. They ended the unit by carefully breaking apart rocks and looking for their very own fossils. They found some pretty cool ones including a lot of fish!