School will be released at 1:45 on Thursday, March 30th and Friday, March 31st for Parent Teacher Conferences. There will be no school April 3rd through April 7th. Enjoy your Spring Break!

MUD PIES & OTHER TASTY TREATS. There will be a parent and preschool workshop on Thursday, March 23 from 5:00-6:00 pm at Henry's Fork Elementary (Indoor Playground). Come get some fresh ideas for yummy meals and snacks for your family! Share thoughts on how to make eating time for kids happy! Bring a recipe if you would like to play the recipe exchange. 0-4 year old kids will enjoy a story and some playtime! FREE BOOK & SPECIAL SURPRISE FOR EACH CHILD. Contact Laurie Hirschi for information.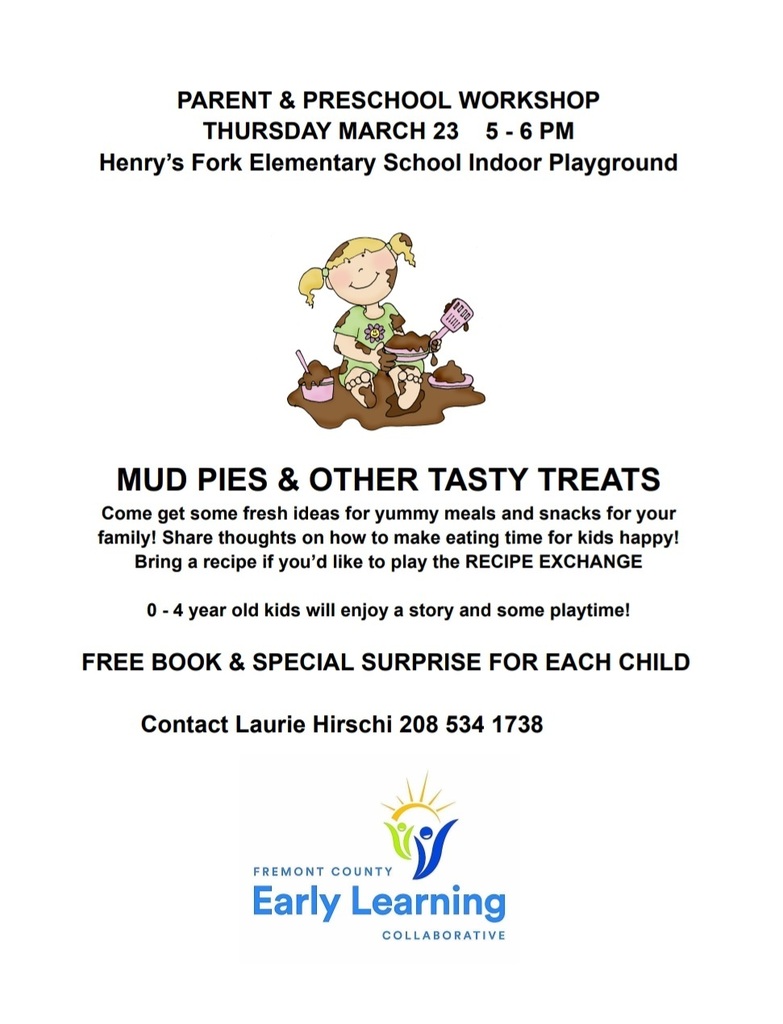 SCHOOL BOND ELECTION TODAY! It is election day. Patrons have the opportunity to vote on the proposed bond to update Ashton Elementary, South Fremont High School, and North Fremont JH/HS. Please take the opportunity to exercise your Constitutional right to vote.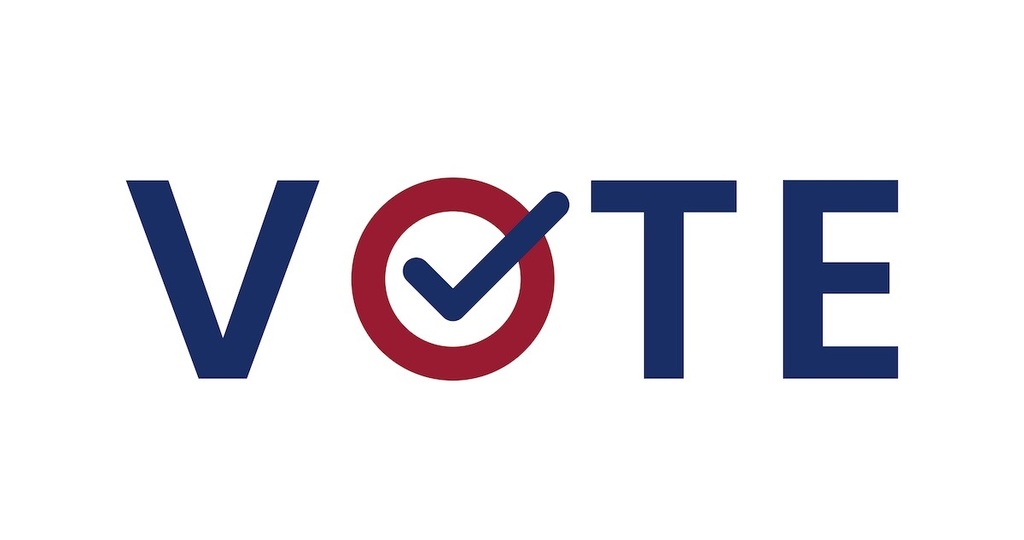 KINDERGARTEN SCREENING. Schedule your incoming kindergarten students for screenings on Tue (14) at 8:30 at Teton Elem, Tue (14) at 12:30 at Parker Elem or Wed. (15) and Thu (16) morning at HFE. Call the school to schedule. We have special supply kits ($200 value) for all incoming students who come to the screening.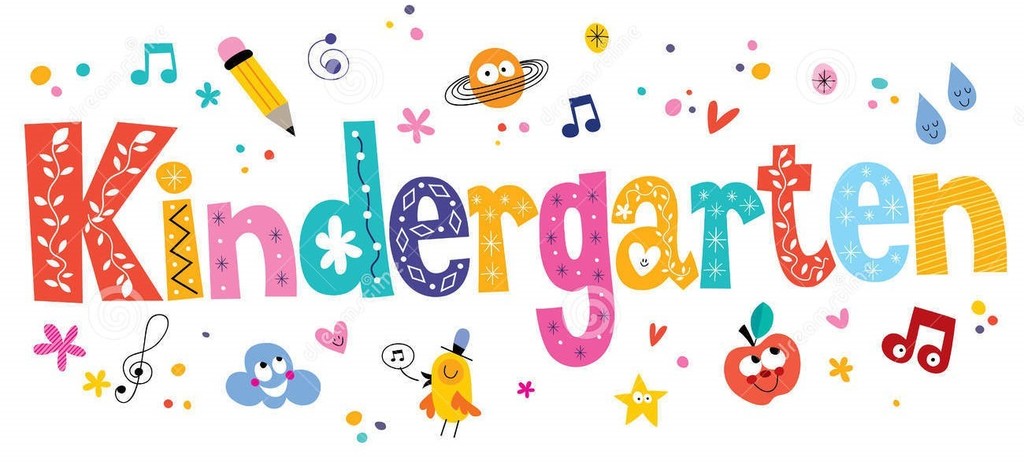 SCHOOL BOND ELECTION. Tomorrow is election day. Patrons have the opportunity to vote on the proposed bond to update Ashton Elementary, South Fremont High School, and North Fremont JH/HS. See the District website for full details or call the District Office (208-624-7542).

UPDATED BOND INFORMATION. During the community information meetings on the bond proposal, patrons asked the school district to post the updated municipal bond interest rates just prior to the bond election on March 14. Zion's Public Finance, Inc. sent an updated graph showing the interest rate trends for the past year from March 1, 2022 through March 7, 2023. They also included a slide showing a comparison between the interest rates from January (3.73%) and March 8 (3.83%). It shows how the change in rates would impact the overall tax impact per $100,000 of taxable value. This slide also shows the impact should the interest rate be 1% higher or 1% lower. As a reminder, the final interest rate if the bond is approved in March would not be locked in until the end of May. Thank you to all who have reached out to ask questions and learn more. These new slides and all other official information regarding the bond can be found on the district website (
https://www.sd215.net/o/sd215/page/2023-bond-election
). If you have any additional questions, please contact one of the Board members or the District Office.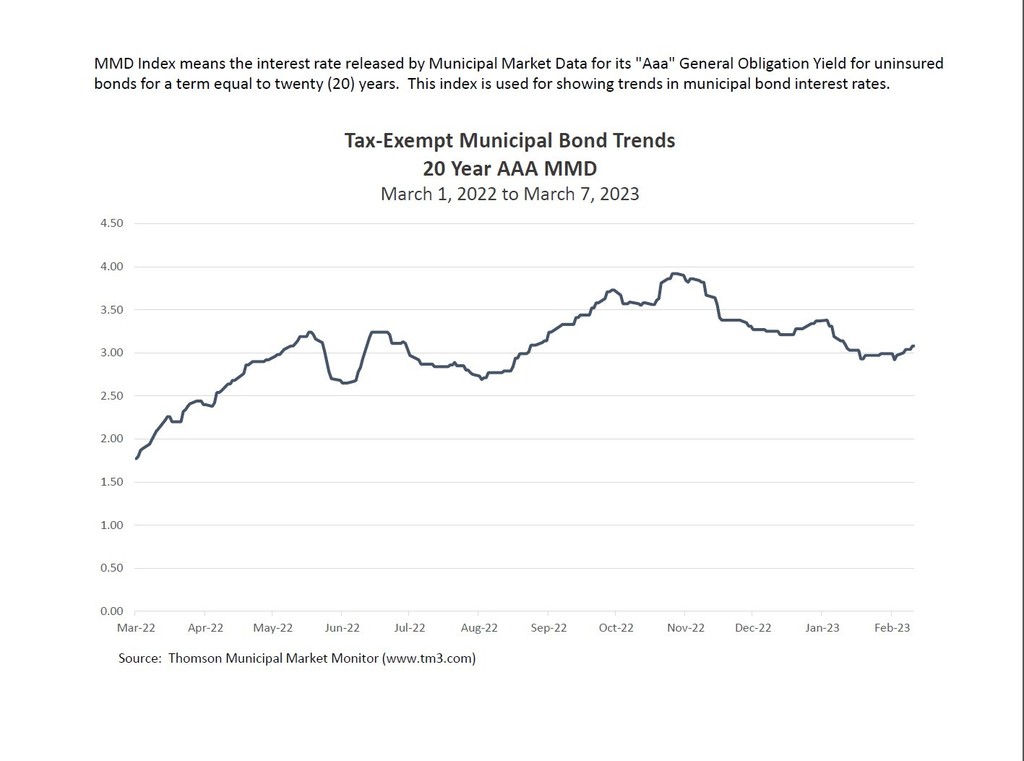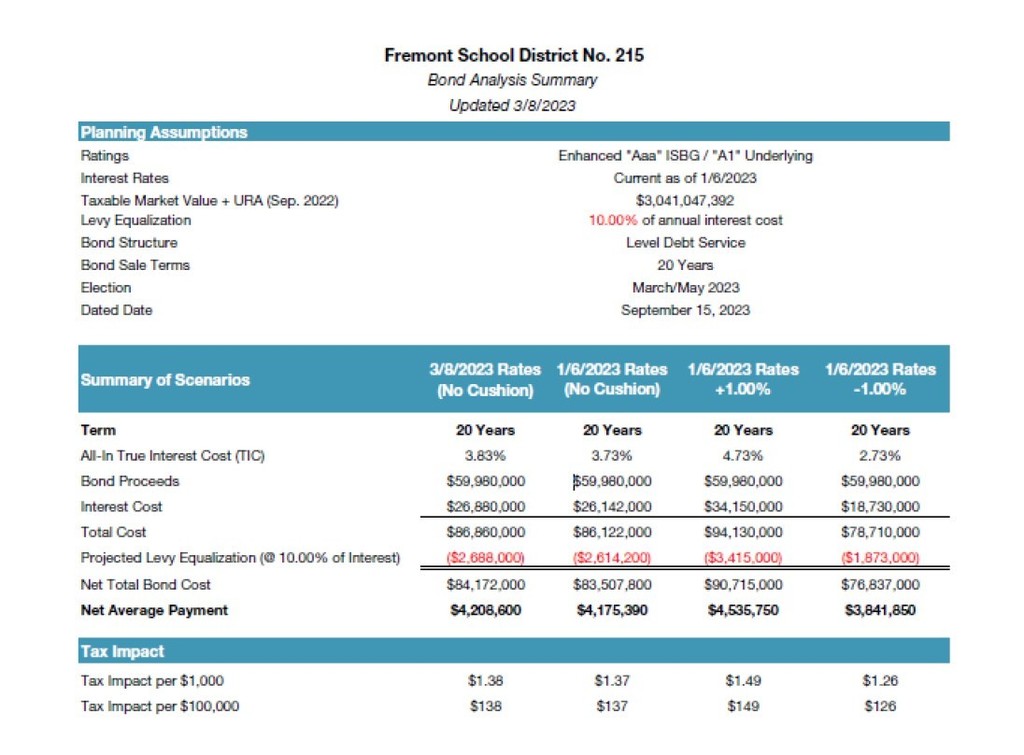 Here at Henry's Fork Elementary School, we understand student drop-off and pickup can be hectic. We are very concerned about the safety of your children. We ask that you be patient during the drop-off and pickup times. Please drop off and pick up your child directly in front of the school. If you park on the far side of the parking lot, please get out and make sure your child crosses to the sidewalk safely. During the day, please park in the designated parking spots, so there is no interference with the traffic flow. When parking in the designated parking spots, please use the handicapped parking spaces only if needed. During the morning and afternoon drop-off and pickup windows do not leave your car unattended if you are in the two designated pick up and drop-off lanes. Only exit your car if you are parked outside of these two lanes. If you are not in one of these two lanes, please walk to the front of the school to pick up your child. It is very dangerous when kids are crossing and going to their parents' cars unattended. Thank you for your support.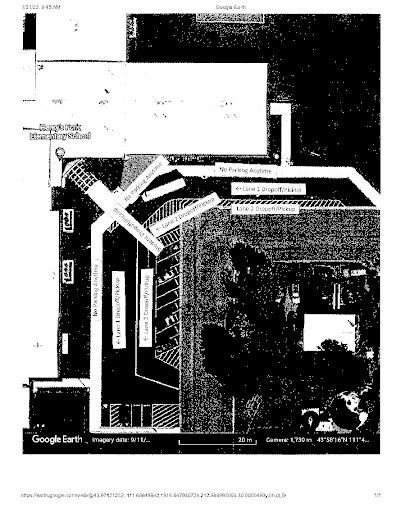 March Calendar.

ALL SCHOOLS CLOSING. Road conditions on the south end of the district are getting worse. South buses have been called back to the schools to take students home as soon as possible. Parents make pick up students at any time. Students in town will be released when buses arrive. Contact your schools with questions.

KINDERGARTEN SCREENING. Fremont Joint School District 215 will be conducting its annual kindergarten screenings March 10-16, 2023. Specific school screening dates and sessions are posted on the district website. ALL kindergarten-age students enrolling for the 2023-24 school year are required to register for and attend this universal screening. Students currently enrolled in our preschool programs and entering kindergarten next year WILL NOT need to attend the screening. Please register your student for the screening on or before Thursday, March by contacting your enrolling school's administrative assistant or by contacting the District Office at 208-624-3146. Thank you!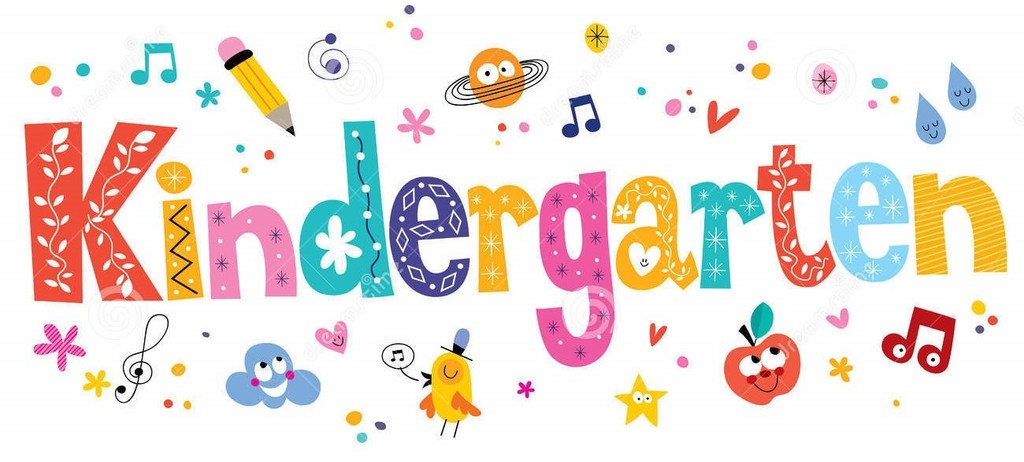 EARLY VOTING OPENS TODAY. In person early voting for the bond proposal is February 27 to March 10 at the Fremont County courthouse (8:00 am to 5:00 pm). A voter may register AND vote the same day. Exercise your Constitutional right to vote.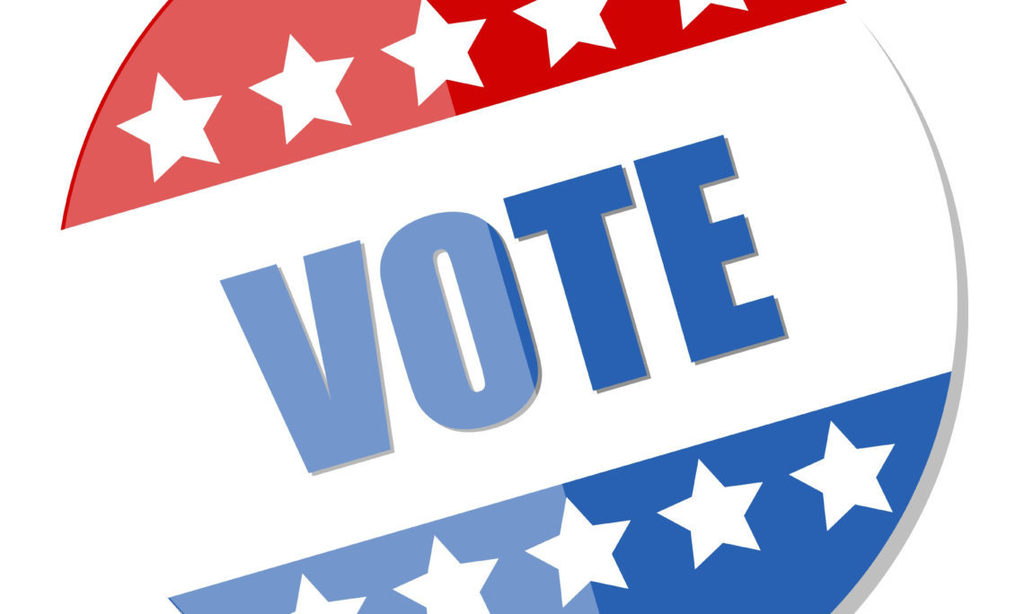 SCHOOL CLOSED (ALL SCHOOLS). All Fremont School District 215 schools will be closed today (Monday, February 27) due to closed roads, snow, and high winds.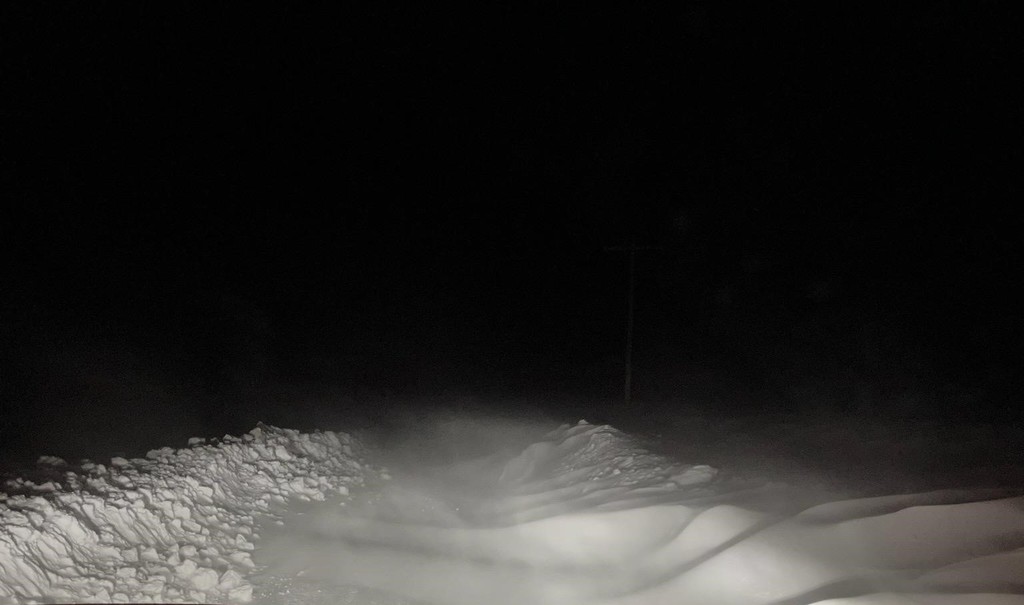 BUS DRIVERS NEEDED: The district is short on bus drivers. We will train you for your CDL and reimburse costs after the school year. Starting pay for route drivers is $16.05 per hour. If you would be able to spare a few hours each week to drive bus, call Misty at (208) 624-7542. Thank you.

BAKED POTATO DINNER & STORYTELLING NIGHT: Special guest, Down-to-Earth Dad Patrick Mitchell will be at Henry's Fork Elementary tonight (February 16) from 5:30-7:30 pm. Everyone is welcome! Free food, stories, playtime, prize drawings. Come join the fun!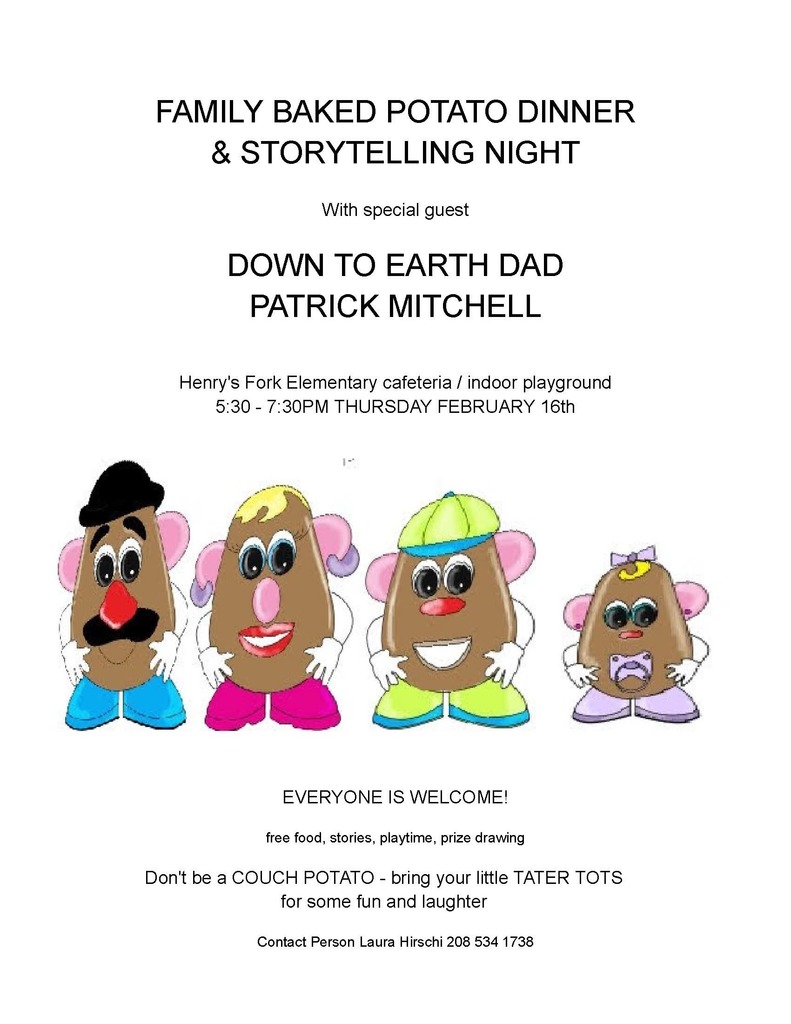 Yesterday we participated in SRO Appreciation Day. We appreciate Officer Cannon and everything he does for our schools.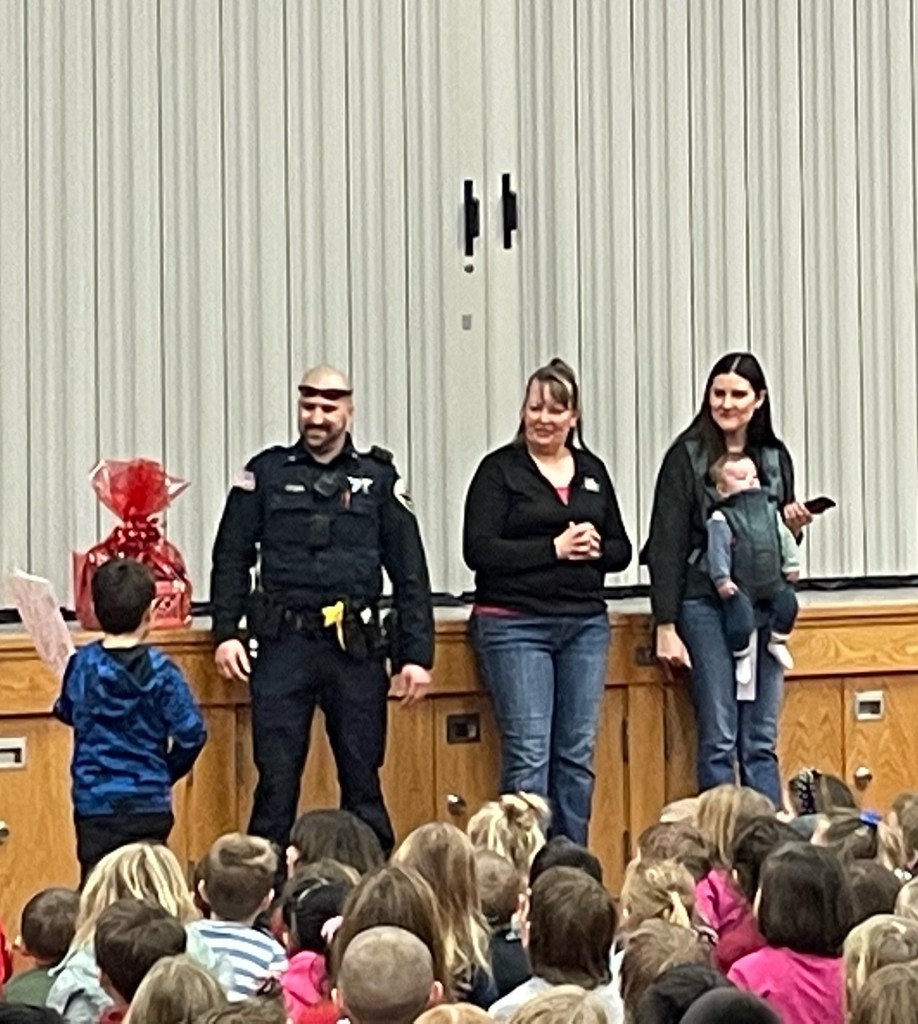 COMMUNITY MEETING REMINDER. A special community meeting will be held tonight (Tuesday, February 14) at 6:00 pm in the South Fremont High Little Theater to learn about the upcoming bond election. The design team will be on-site to present and address questions. Please come and learn more about the proposed bond.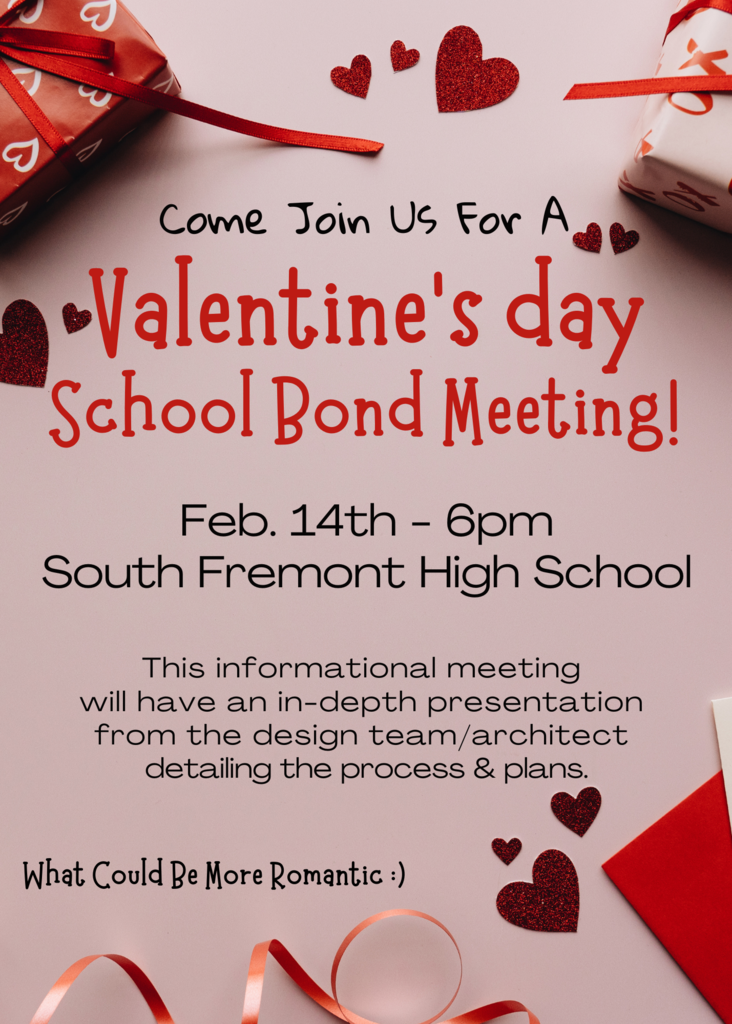 SCHOOL CLOSURE. Due to hazardous conditions with blowing and drifting snow, ALL schools in Fremont School District will be closed today (Tuesday, February 14).