February Calendar.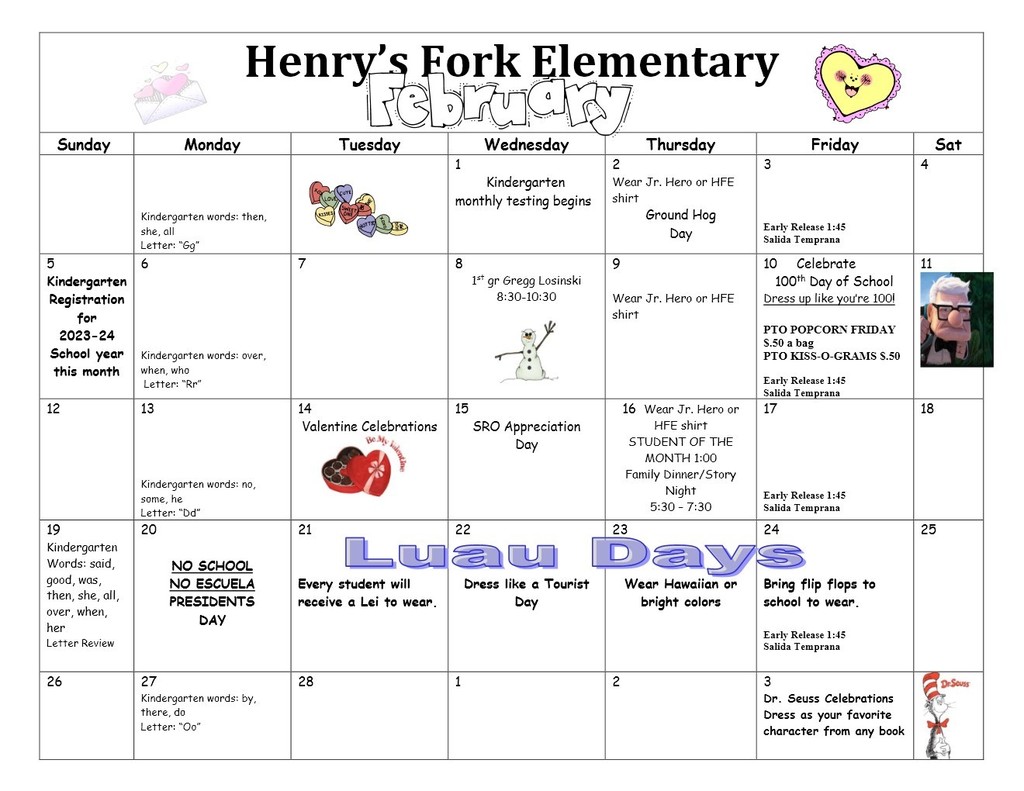 Due to the cold temperature, there will not be school tomorrow January 31.

SCHOOL CLOSURE (1/31/2023). Due to the cold temperatures and expected wind chill, Fremont County Joint School District #215 is cancelling classes in all schools for Tuesday, January 31. Be safe with these cold temperatures.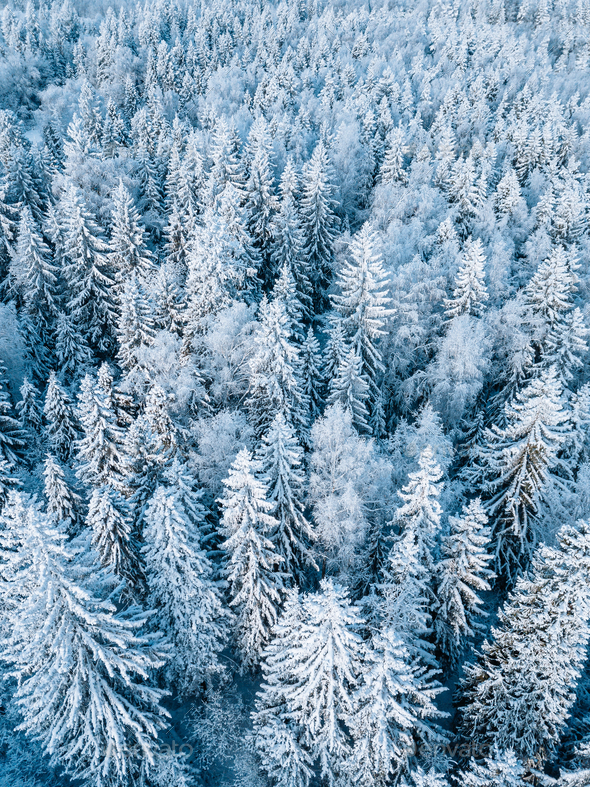 Kindergarten Registration will be held February 1st through March 14th. Please stop by the office to fill out registration paperwork and to make an appointment for the Kindergarten Screening. Kindergarten Screenings will be held on March 15th and 16th. Please bring your child's birth certificate and immunization records. The office is open from 7:30-4:00, Monday through Thursday, and 7:30-3:00 on Fridays.

Just a quick reminder that there will be no school on Monday, January 23rd.

Check out our January Newsletter.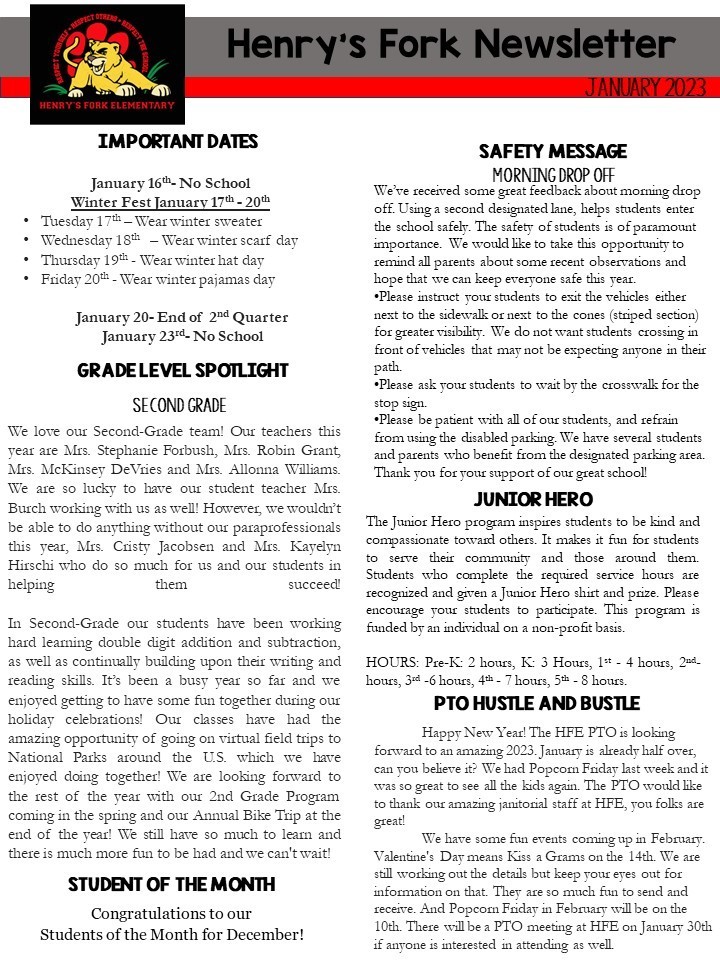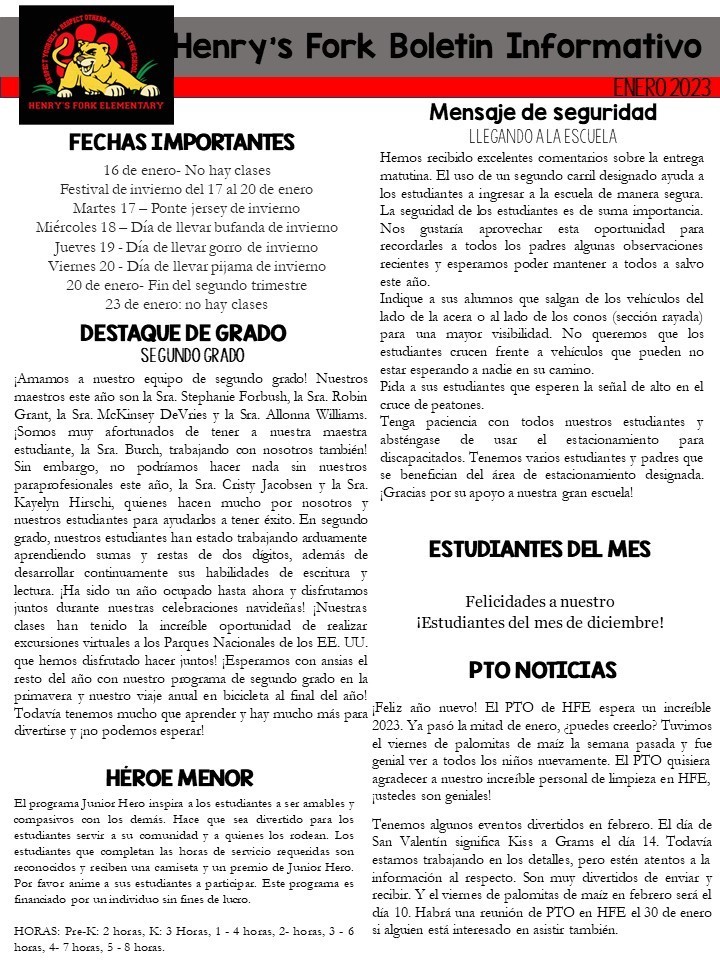 Just a quick reminder that there will be no school on Monday, January 16th.

Counselor's Corner January Newsletter.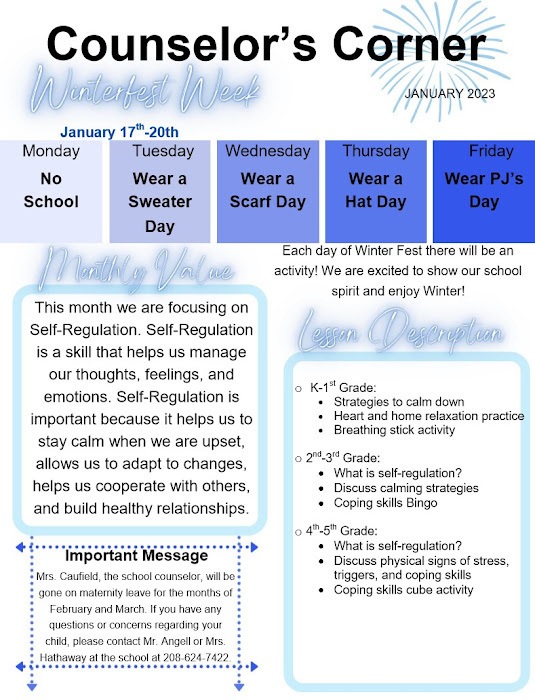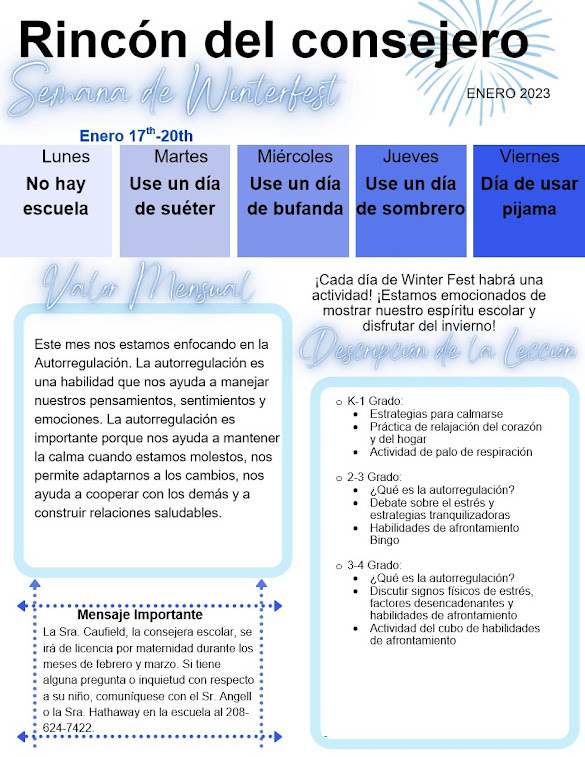 Parent and Preschool Workshop.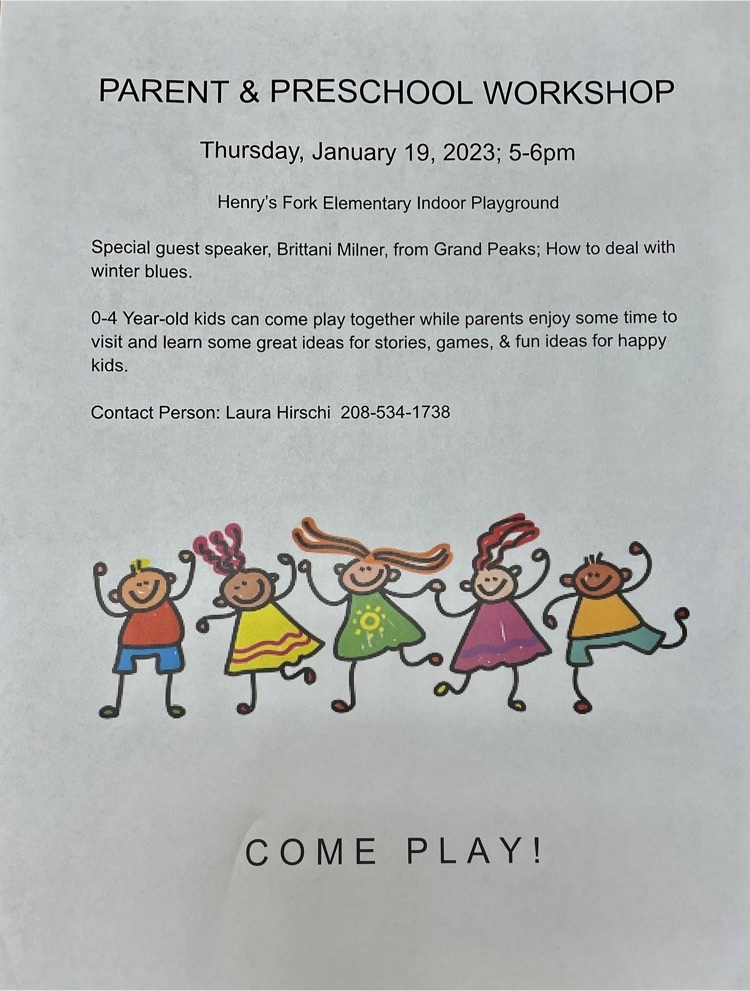 January Calendar.

Tomorrow , Wednesday December 21st, school will be released early. Please pick up your students at 1:45.

We would like to thank everyone who provided donations for our Giving Tree. We would also like to extend a huge THANK YOU to our local St. Anthony Maverik, Star Bar, and WesCo for supporting and donating to our students and their families during this holiday season.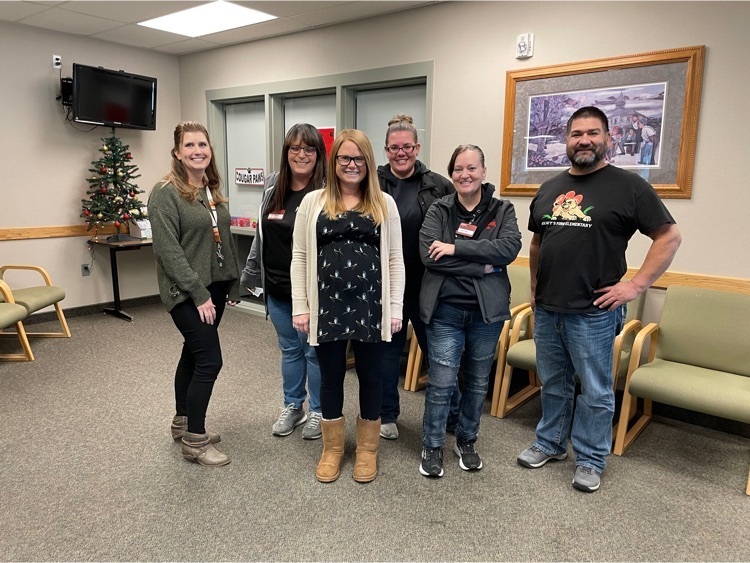 Henry's Fork December Newsletter.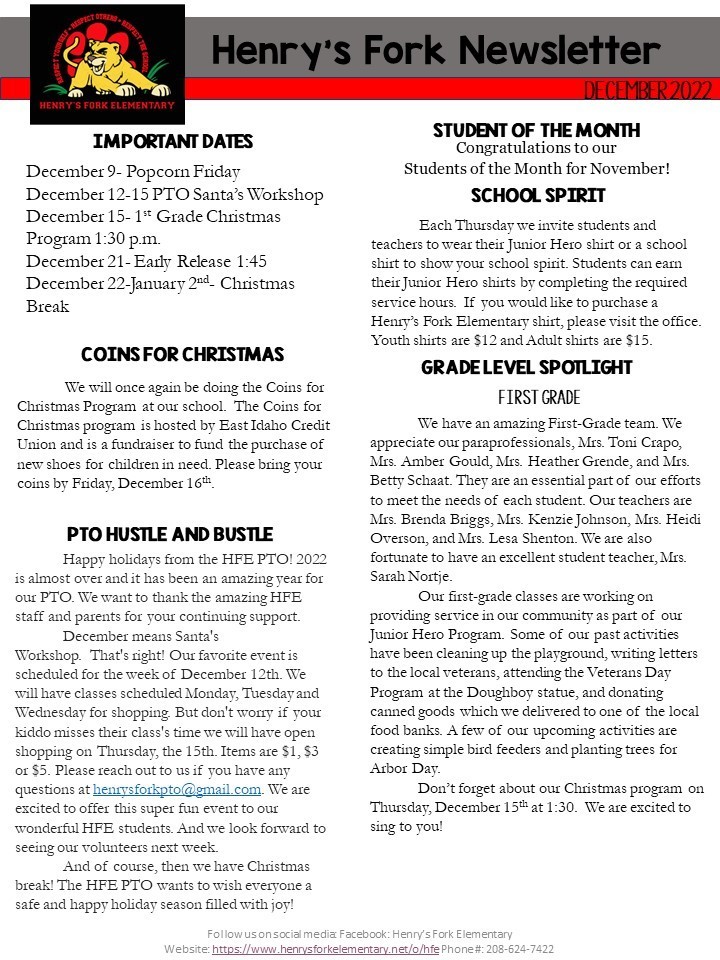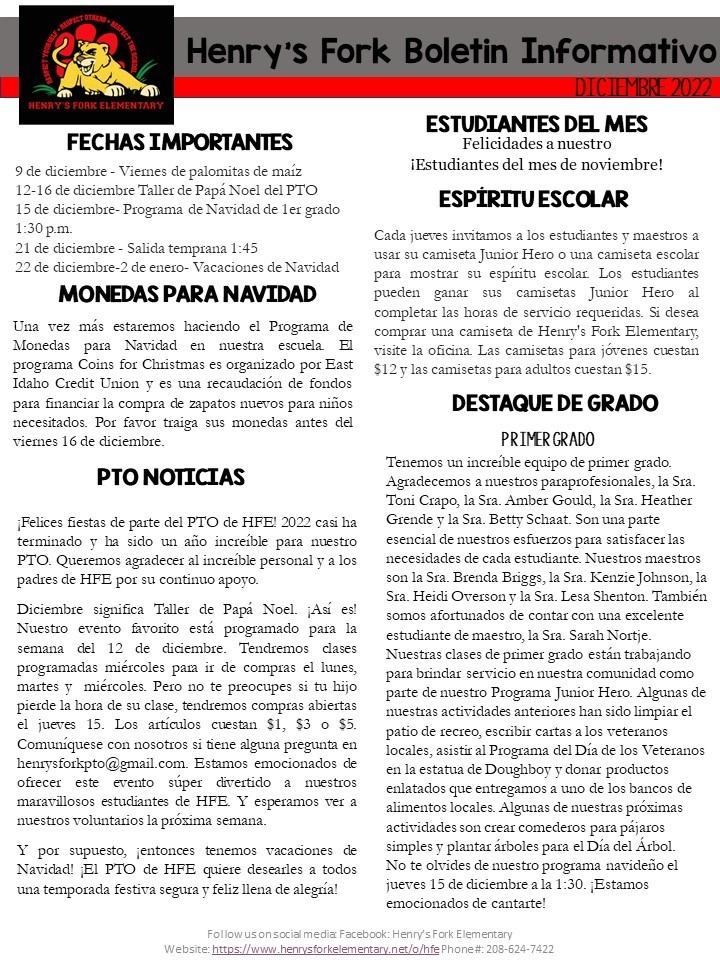 Please look through the lost and found items before Christmas Break. Any items that are not picked up by then will be donated to the D.I. in Rexburg.

SCHOOL BUS MECHANIC NEEDED. The bus mechanic performs repairs and preventative maintenance on the school district's fleet of buses, ensuring completion of projects in accordance with trade standards. Applicants must have a Class B CDL with school bus and passenger endorsements. The mechanic may need to perform roadside and after hour emergency repairs. Some computer work is required. Contact Misty at the district office for details. Phone number is (208) 624-7542.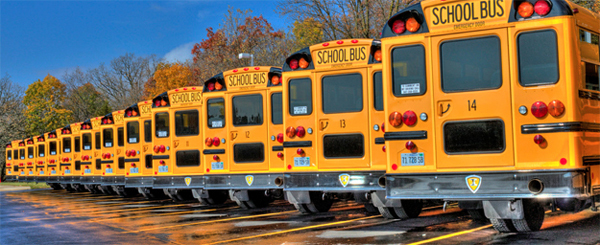 SCHOOL CLOSURE (12/02/2022). Due to blowing and drifting snow and road closures, ALL schools in Fremont County will be closed today (Friday, December 2).

December Calendar.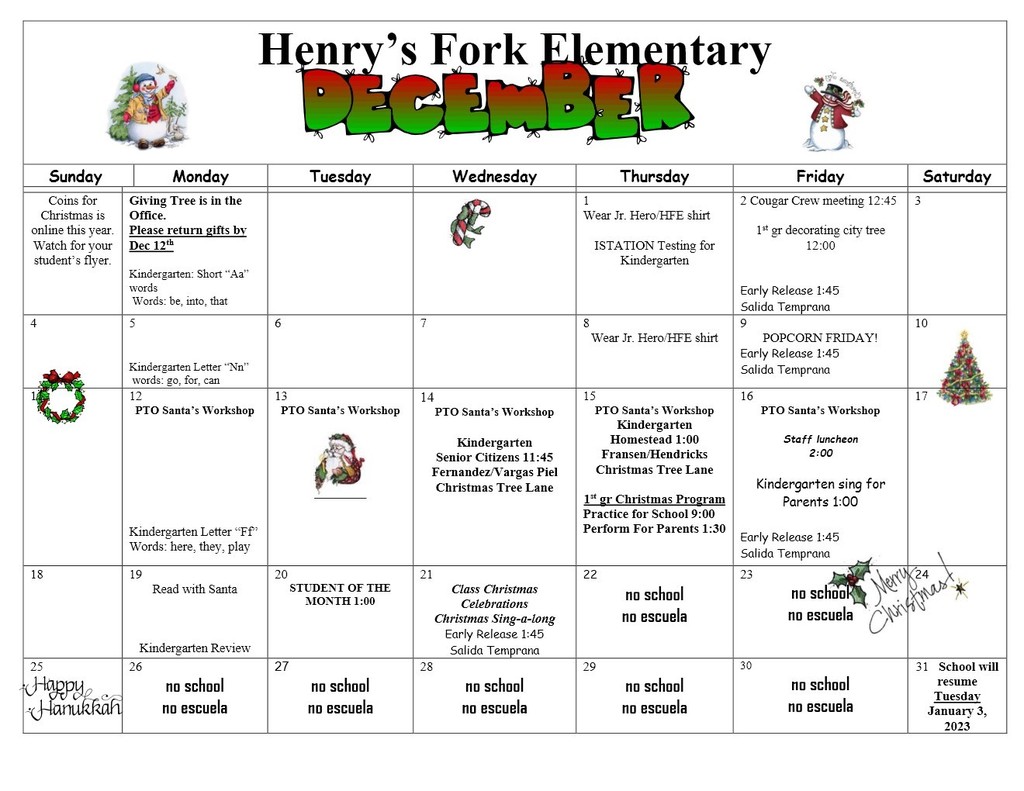 Counselor's Corner December Newsletter.