South Fremont Summer Band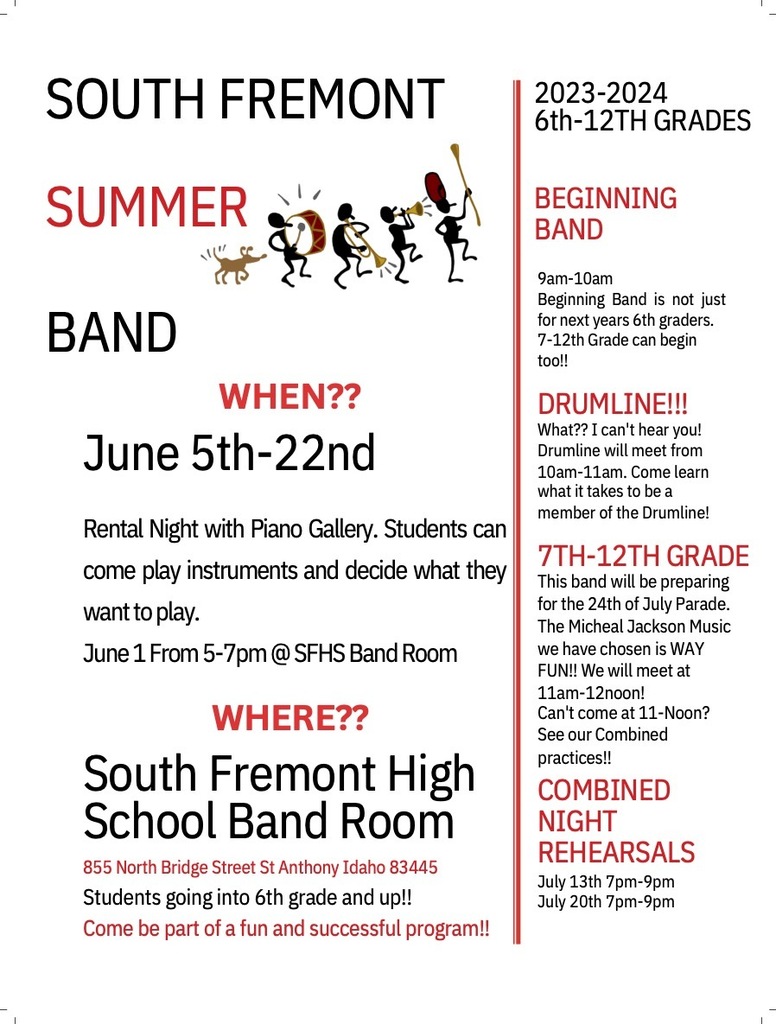 Field Day Information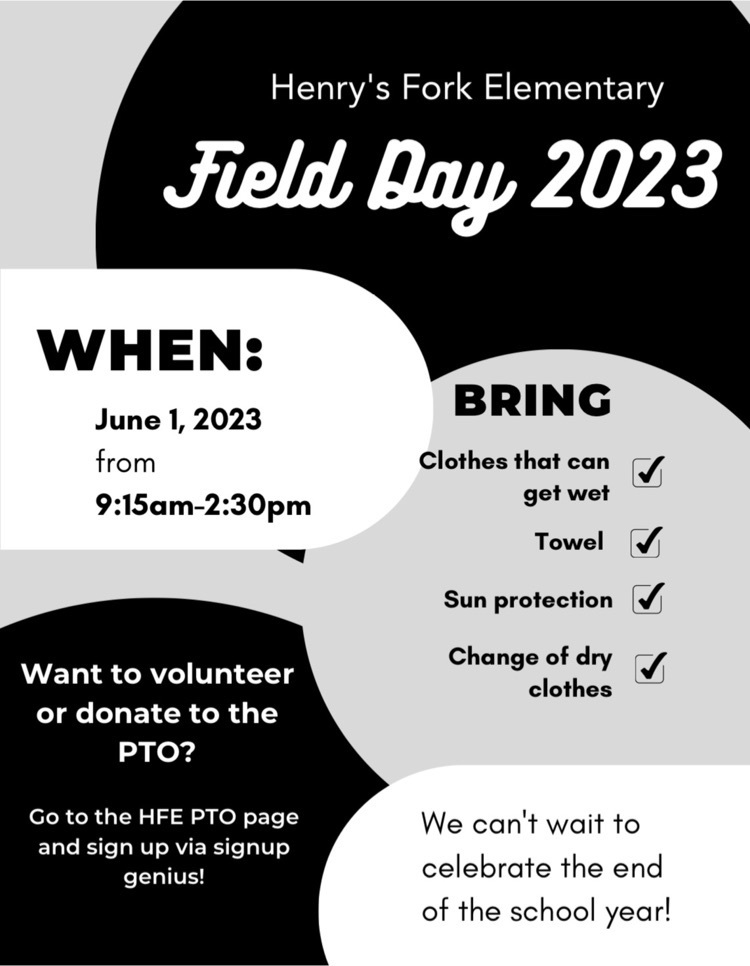 Please join us for an Early Learning Free Family Picnic, on May 25th, held at the Ashton City Park.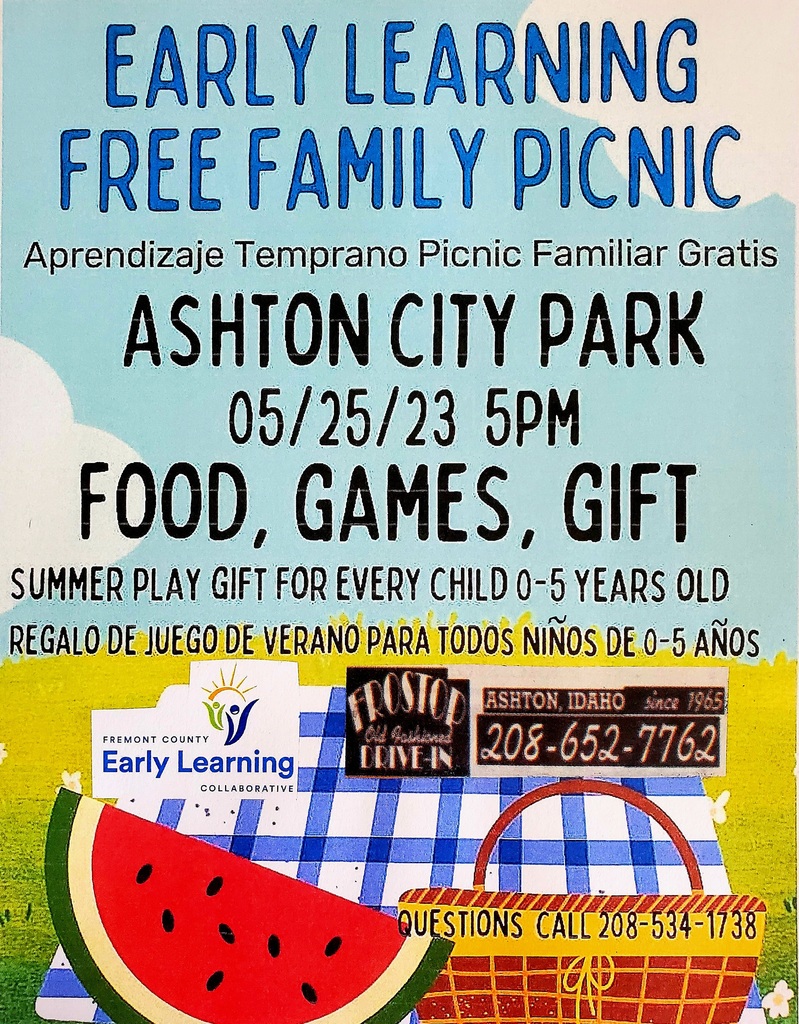 May Newsletter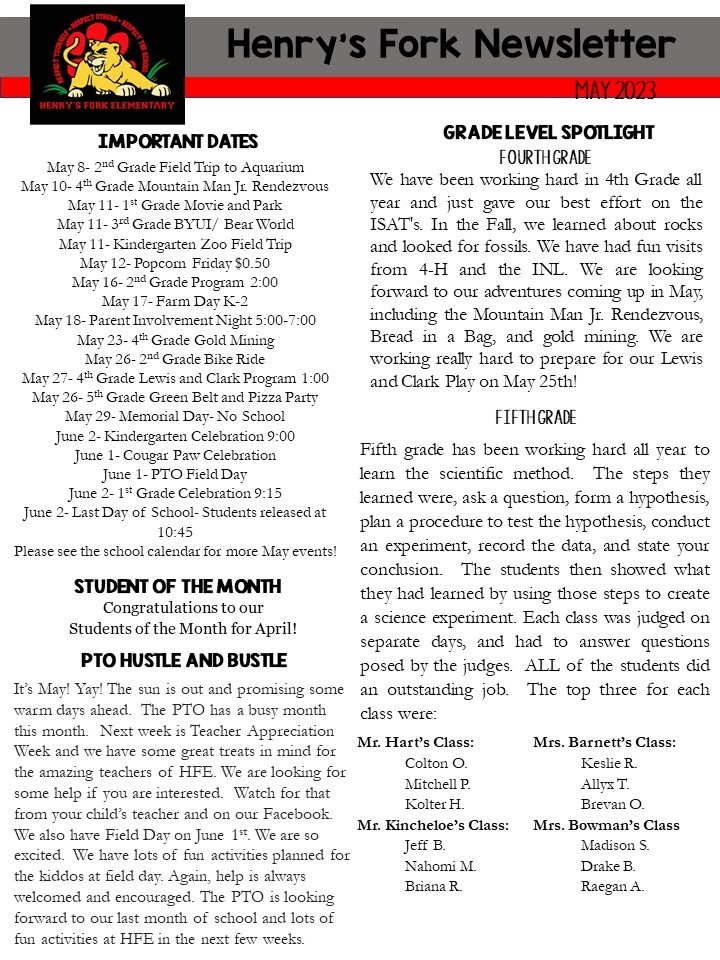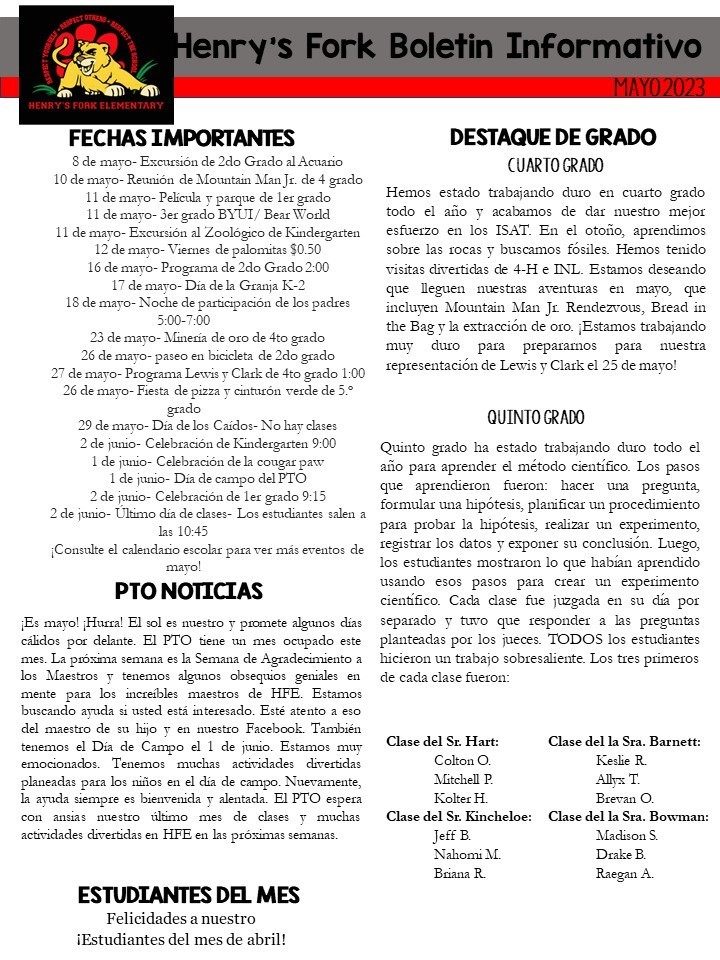 Please join us for Parent Involvement Night on May 18th from 5:00-7:00.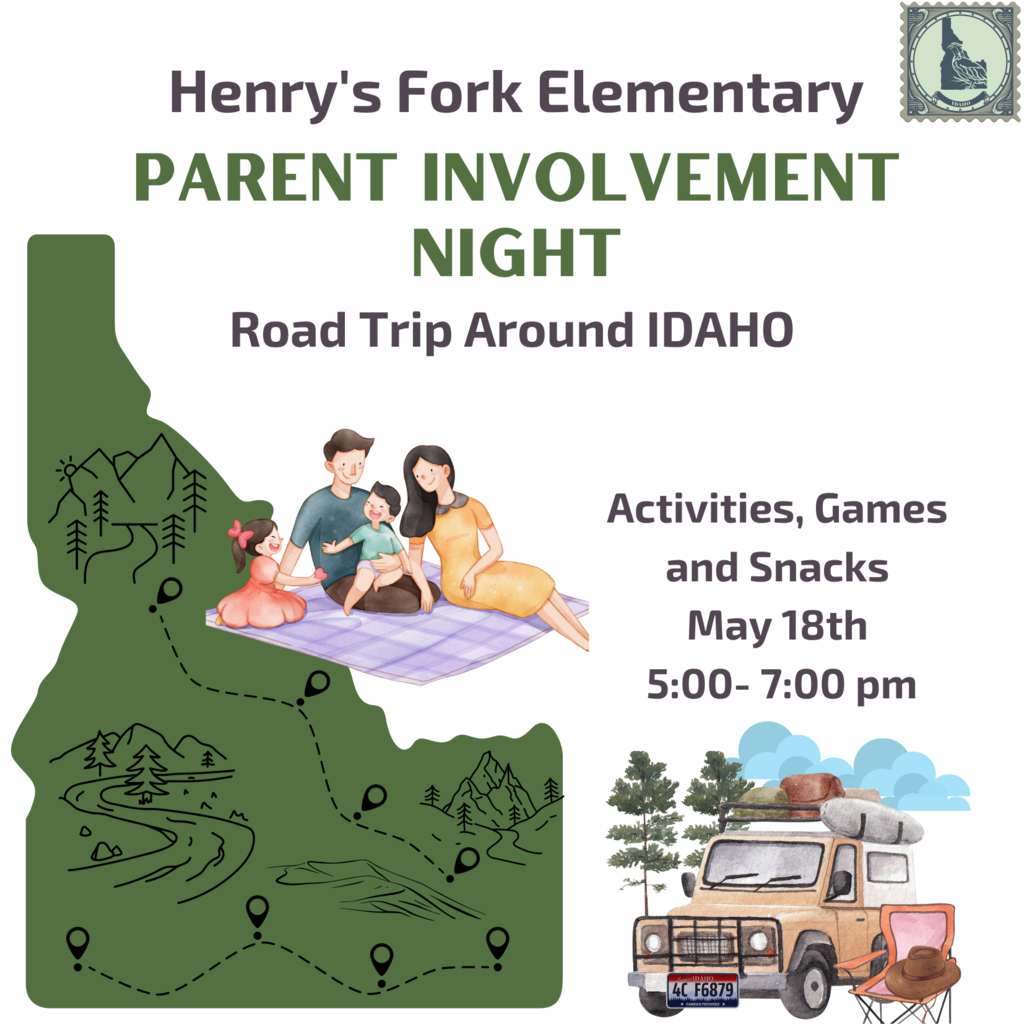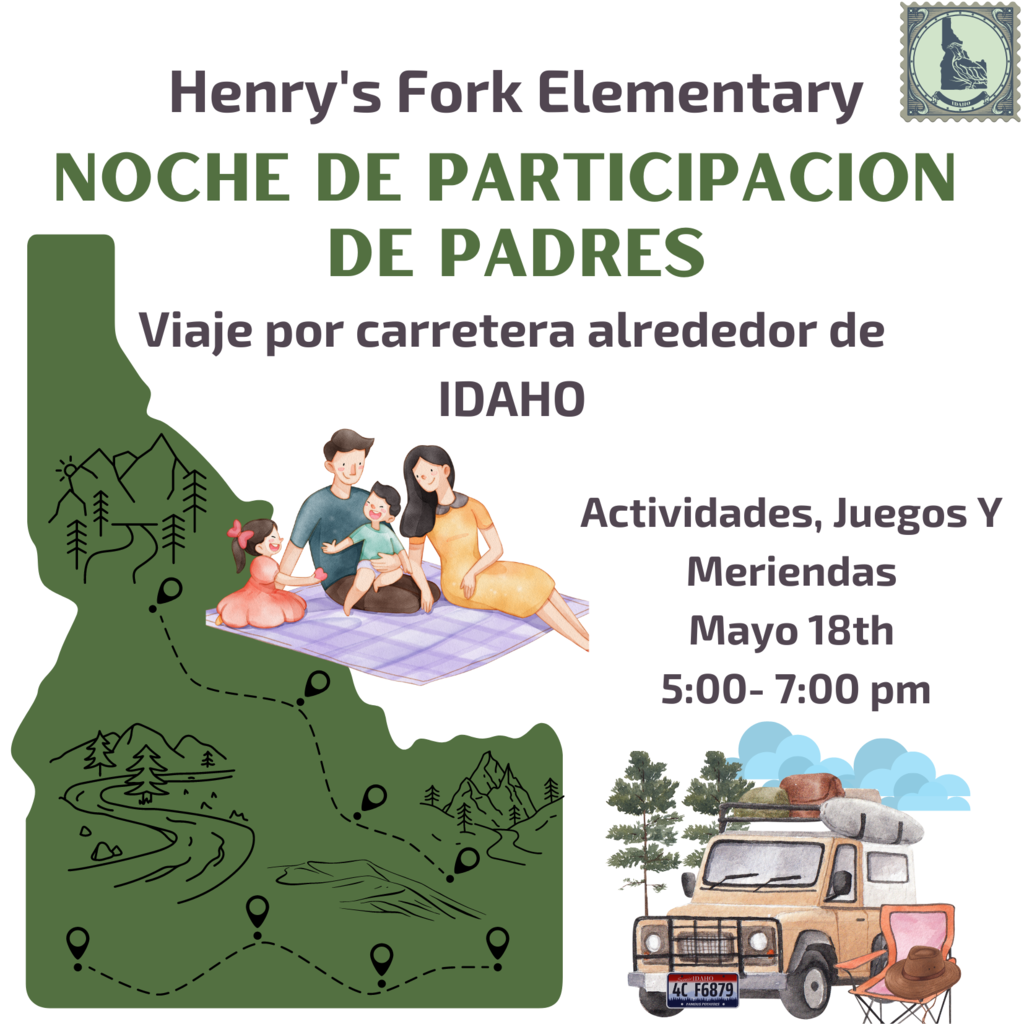 May Calendar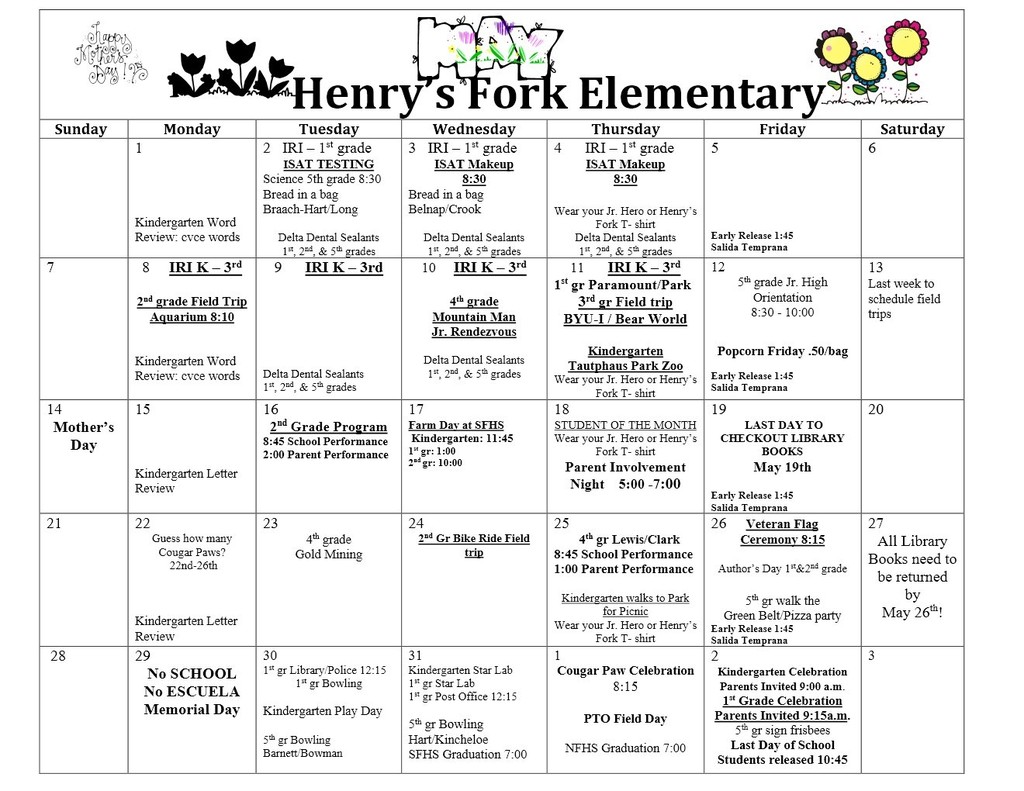 April Newsletter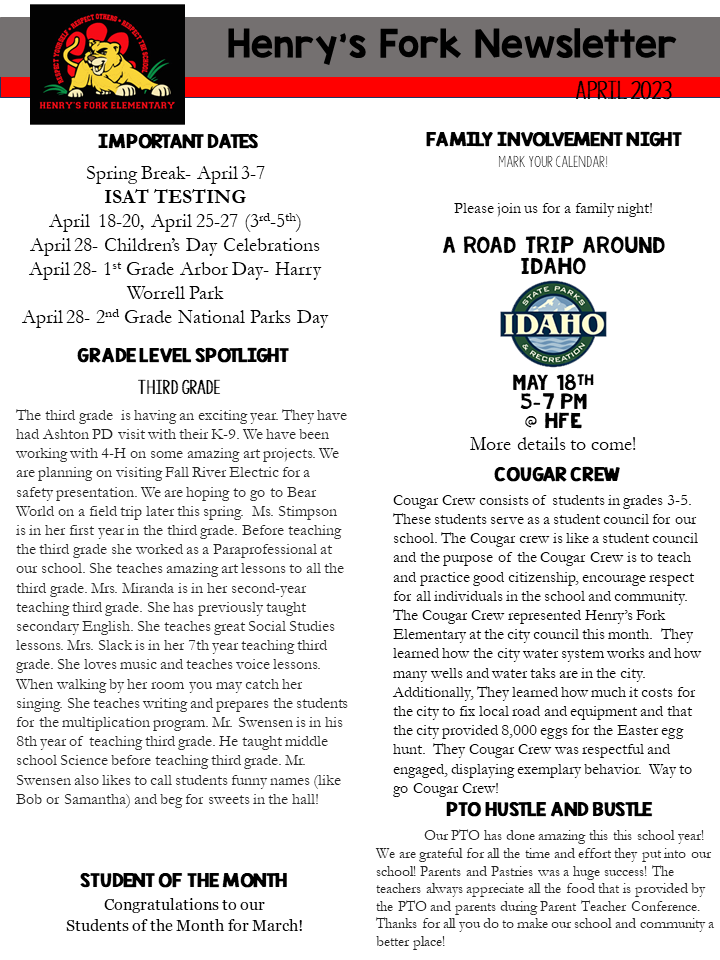 April Counselor Corner Newsletter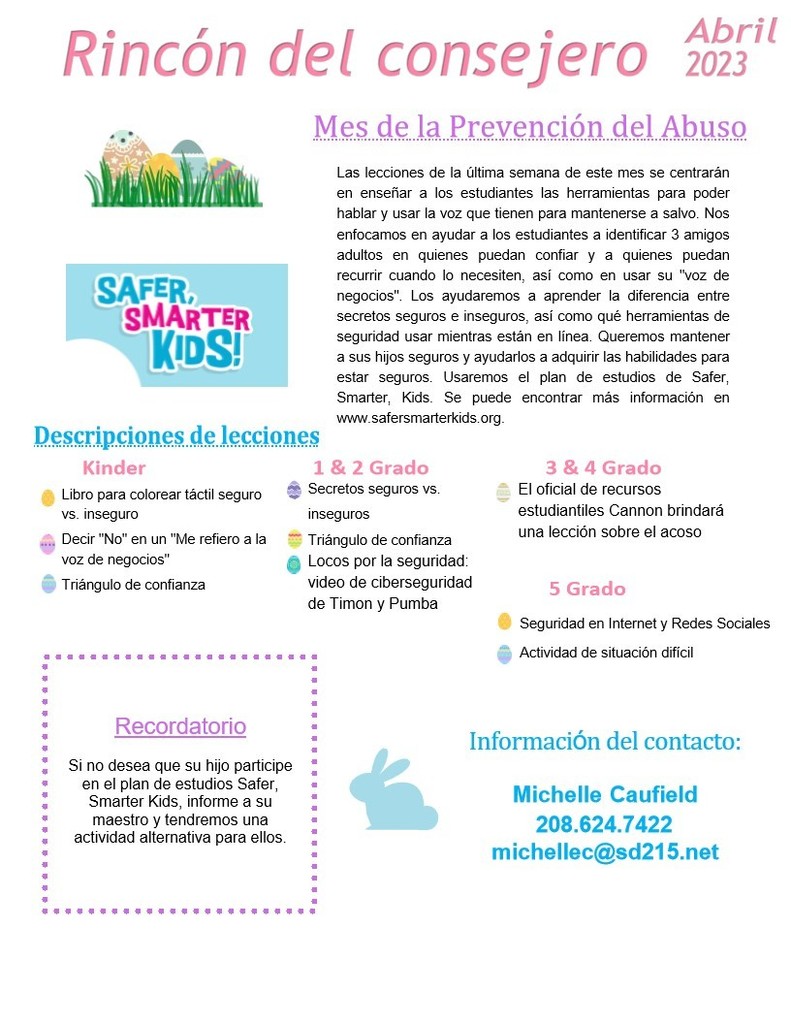 The PTO is excited to host Pastries with Parents on April 21, 2023! Bring your student(s) to school and enjoy a pastry from 7:30-8am.

The Cougar Crew represented Henry's Fork Elementary at the City Council meeting last week. They learned how the city water system works and how many wells and water tanks are in the city. Additionally, they learned how much it costs for the city to fix local roads and old equipment and that the city provided 8,000 eggs for the Easter egg hunt. The Cougar Crew was respectful and engaged, displaying exemplary behavior. Way to go Cougar Crew!

April Lunch Menu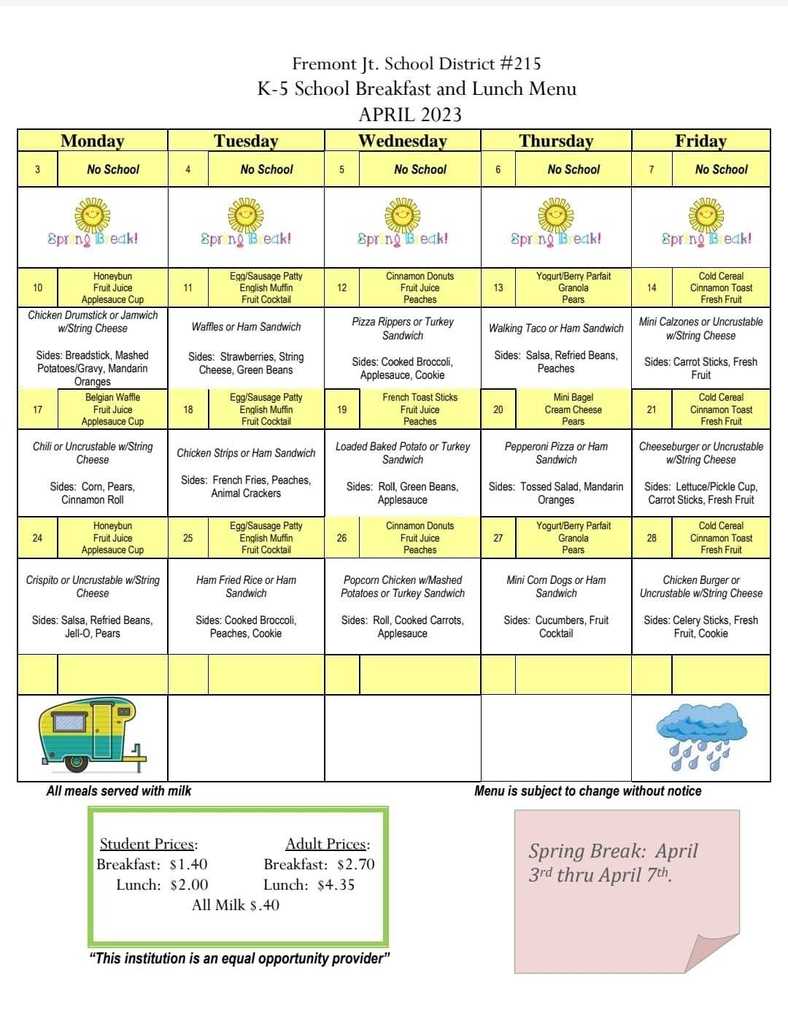 April Calendar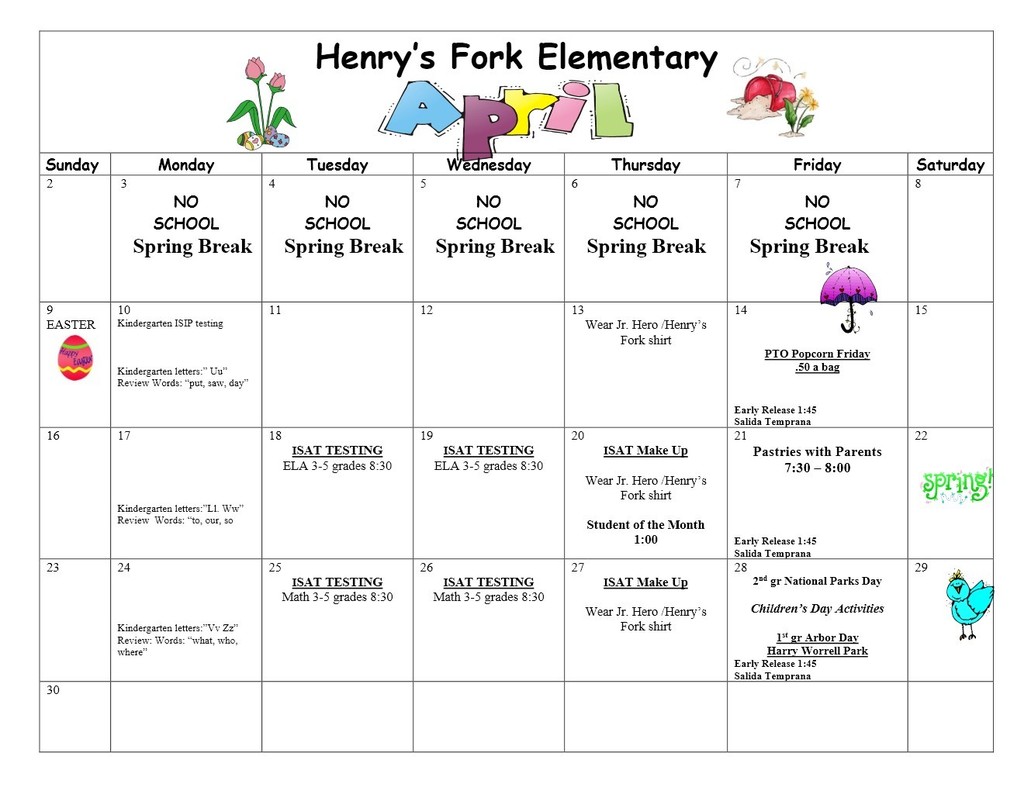 If you have a valid educational based teacher request for your student for the 2023-2024 school year, please talk to or email Mr. Angell or Mrs. Hathaway. Requests will be accepted until April 20th. Chad Angell -
chada@sd215.net
Katie Hathaway -
katieh@sd215.net

School will be released at 1:45 on Thursday, March 30th and Friday, March 31st for Parent Teacher Conferences. There will be no school April 3rd through April 7th. Enjoy your Spring Break!

MUD PIES & OTHER TASTY TREATS. There will be a parent and preschool workshop on Thursday, March 23 from 5:00-6:00 pm at Henry's Fork Elementary (Indoor Playground). Come get some fresh ideas for yummy meals and snacks for your family! Share thoughts on how to make eating time for kids happy! Bring a recipe if you would like to play the recipe exchange. 0-4 year old kids will enjoy a story and some playtime! FREE BOOK & SPECIAL SURPRISE FOR EACH CHILD. Contact Laurie Hirschi for information.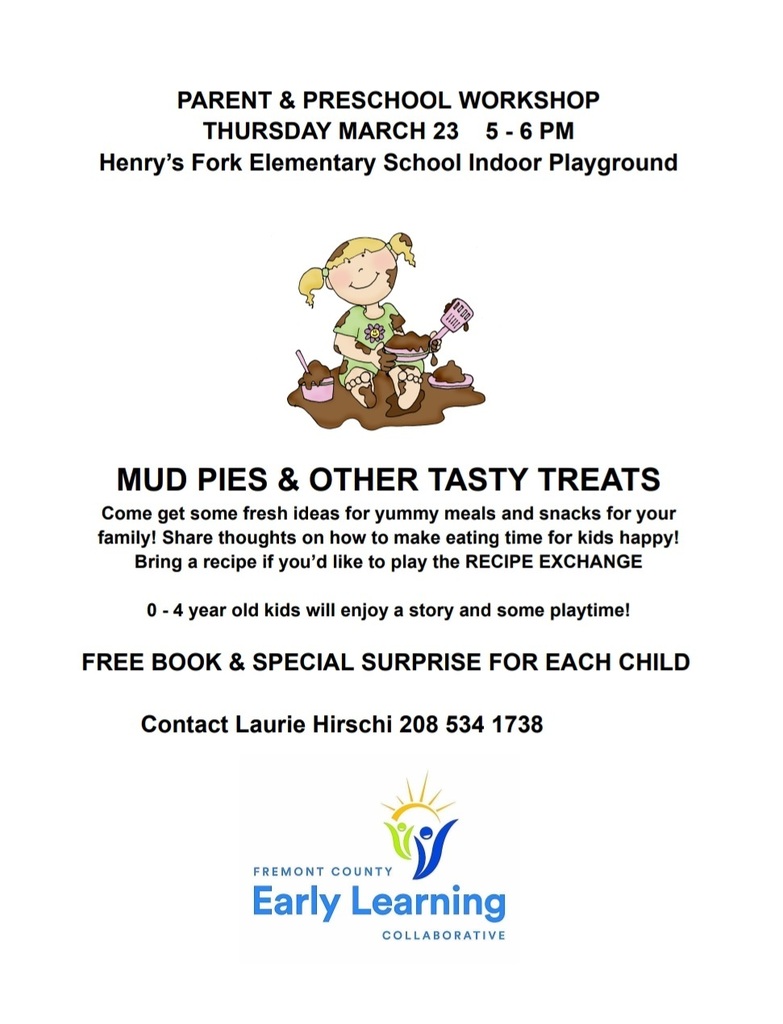 SCHOOL BOND ELECTION TODAY! It is election day. Patrons have the opportunity to vote on the proposed bond to update Ashton Elementary, South Fremont High School, and North Fremont JH/HS. Please take the opportunity to exercise your Constitutional right to vote.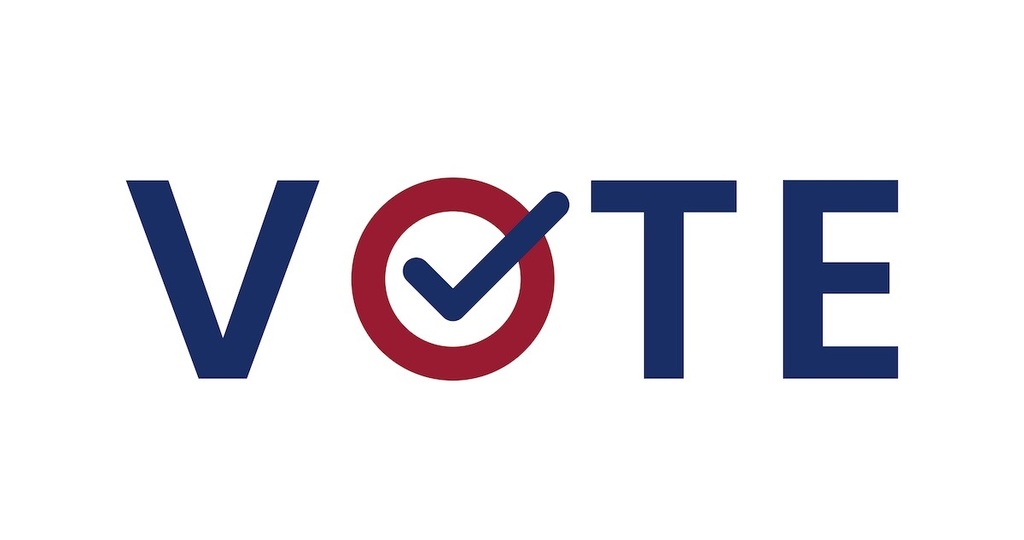 KINDERGARTEN SCREENING. Schedule your incoming kindergarten students for screenings on Tue (14) at 8:30 at Teton Elem, Tue (14) at 12:30 at Parker Elem or Wed. (15) and Thu (16) morning at HFE. Call the school to schedule. We have special supply kits ($200 value) for all incoming students who come to the screening.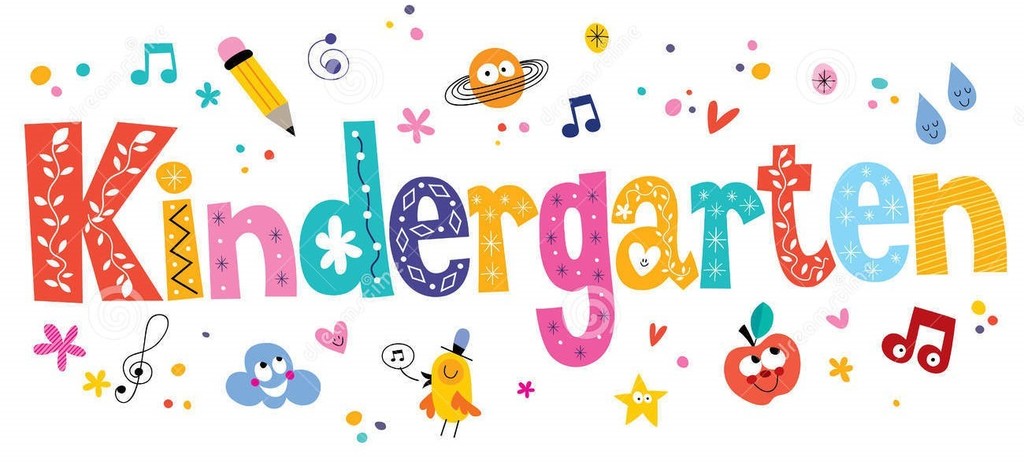 SCHOOL BOND ELECTION. Tomorrow is election day. Patrons have the opportunity to vote on the proposed bond to update Ashton Elementary, South Fremont High School, and North Fremont JH/HS. See the District website for full details or call the District Office (208-624-7542).

UPDATED BOND INFORMATION. During the community information meetings on the bond proposal, patrons asked the school district to post the updated municipal bond interest rates just prior to the bond election on March 14. Zion's Public Finance, Inc. sent an updated graph showing the interest rate trends for the past year from March 1, 2022 through March 7, 2023. They also included a slide showing a comparison between the interest rates from January (3.73%) and March 8 (3.83%). It shows how the change in rates would impact the overall tax impact per $100,000 of taxable value. This slide also shows the impact should the interest rate be 1% higher or 1% lower. As a reminder, the final interest rate if the bond is approved in March would not be locked in until the end of May. Thank you to all who have reached out to ask questions and learn more. These new slides and all other official information regarding the bond can be found on the district website (
https://www.sd215.net/o/sd215/page/2023-bond-election
). If you have any additional questions, please contact one of the Board members or the District Office.